CMA CGM's 2nd LNG-powered giant nearing completion
CMA CGM's second ultra large LNG-powered containership is undergoing sea trials, according to the Chinese shipbuilder Hudong-Zhonghua.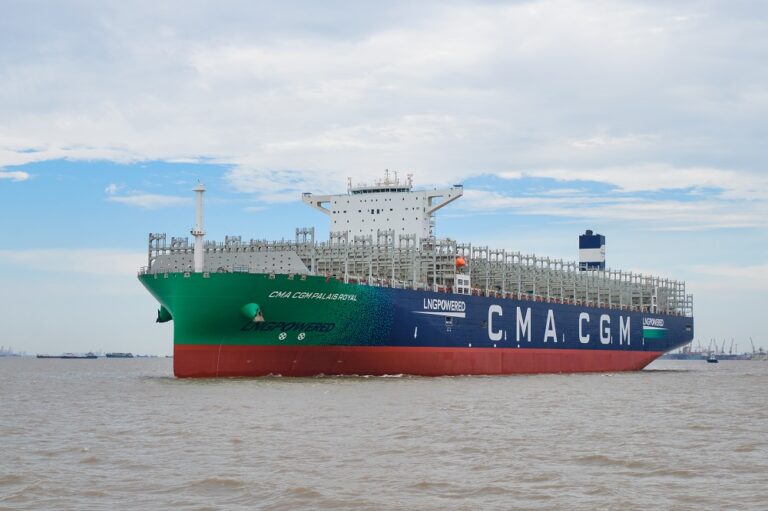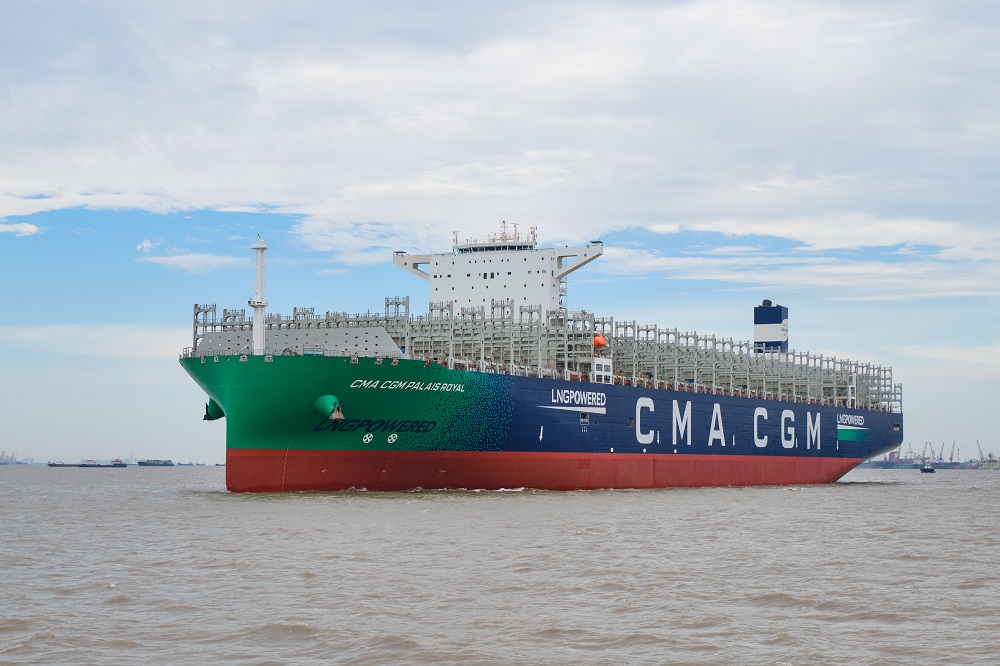 The CMA CGM Palais Royal left the Shanghai Jiangnan-Changxing Shipyard, a part of Hudong, on August 5, the shipbuilder said in a statement.
This is the second CMA CGM vessel for Hudong while the second vessel in the real order is under construction at Jiangnan Shipyard.
The two CSSC-owned yards are building in total nine 23,000 TEU LNG-powered vessels for the French container shipping group.
Hudong is building five vessels while Jiangnan Shipyard is constructing four ships from this batch.
VesselsValue data suggests each of these ships is worth about $171 million.
To remind, Hudong launched the CMA CGM Jacques Saade, the first ship in these series, in August 2019.
This vessel returned from sea trials end March. But it looks like it still needs to complete gas trials following the installation of a GTT tank earlier this year.
The ships' AIS data shows that it did not leave the Jiangnan yard after it completed sea trials.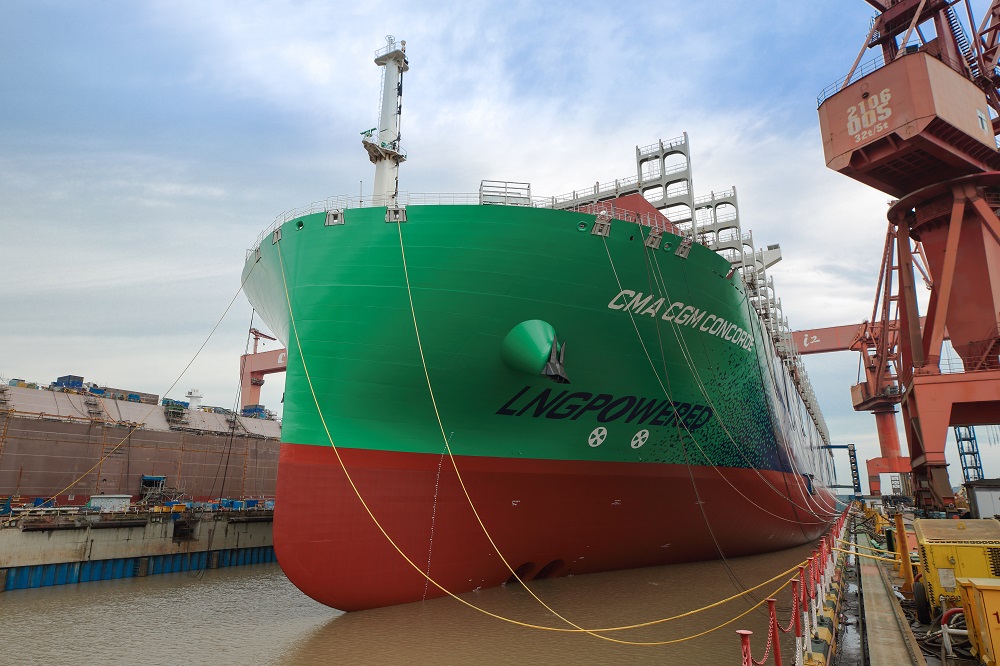 Besides these two ships, Hudong and Jiangnan are also working on other sister vessels.
Hudong said in a separate statement that its Jiangnan yard moved the fourth vessel from dry dock on August 5.
The vessel (pictured above) will be named CMA CGM Concorde.
Biggest, biggest, biggest
All of the containerships will be 400 meters long and 61 meters wide, making them them the world's largest vessels powered by LNG.
Besides being the largest, they will be displaying an "LNG Powered" logo, attesting to the "major worldwide innovation that LNG propulsion represents on ships of this size," CMA CGM previously said.
Such large vessels also need a strong propulsion and a big LNG tank.
The ships will feature the biggest ever dual-fuel marine engines weighing about 2,100 tons, each.
WinGD's 12X92DF engines have a maximum power rating of 63,840 kW or about 85,611 hp.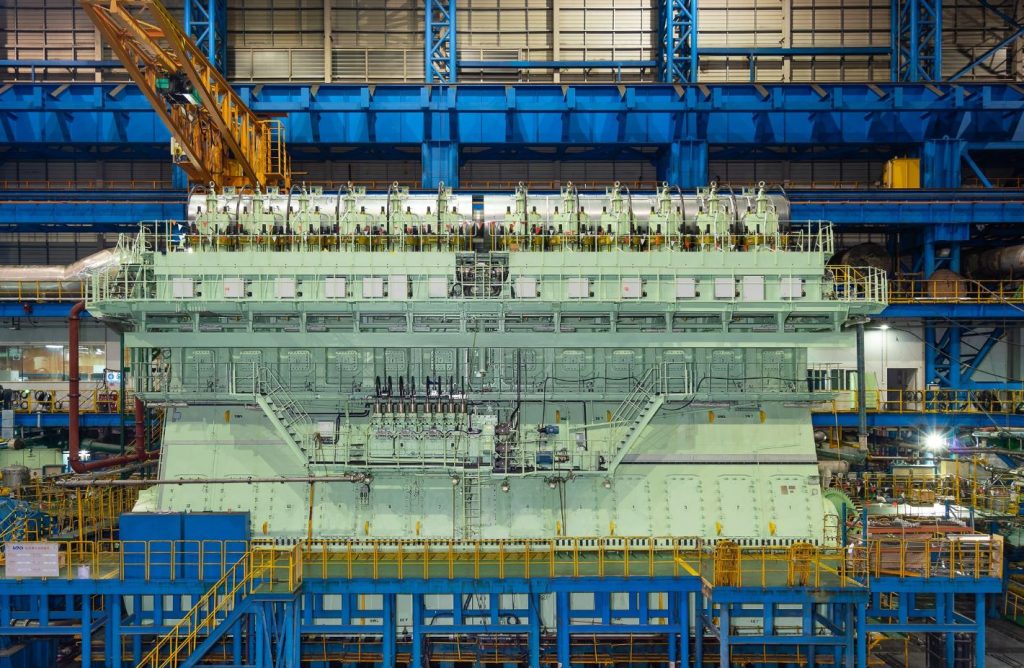 The DF engines will receive LNG from an 18,600-cbm fuel tank featuring GTT's Mark III containment system.
To put this into perspective, this volume is equivalent to about seven olympic-size pools.
Seems like there is nothing conventional with this development as these tanks will be fueled by the LNG bunkering vessel Gas Agilty, biggest ever built.
It has the same capacity as these tanks and France-based energy giant Total chartered it from Japan's Mitsui O.S.K. Lines.
Following completion, Gas Agilty departed the Jiangnan in May and its AIS data shows the vessel moored offshore Malta, where it arrived last week.
The 135-meter long ship will be based in Rotterdam supplying the fuel to the nine containerships but also other vessels in the Northern Europe area.
CMA CGM expects to take delivery of these LNG-powered giants during this year and the first half of 2021.
Once delivered, they will work on the Europe-Asia route.
The shipping group aims to have in total 20 LNG-powered vessels in its fleet by 2022 as it looks to comply with the new IMO standards and slash emissions.
This includes five 15,000 TEU containerships and six smaller vessels of 1,400 TEU.