ESL Shipping readies for delivery of 1st hybrid vessel
The construction of ESL Shipping's energy-efficient plug-in hybrid vessels at the Chowgule Shipyard in India is progressing according to schedule, the Finnish dry bulk shipping company said.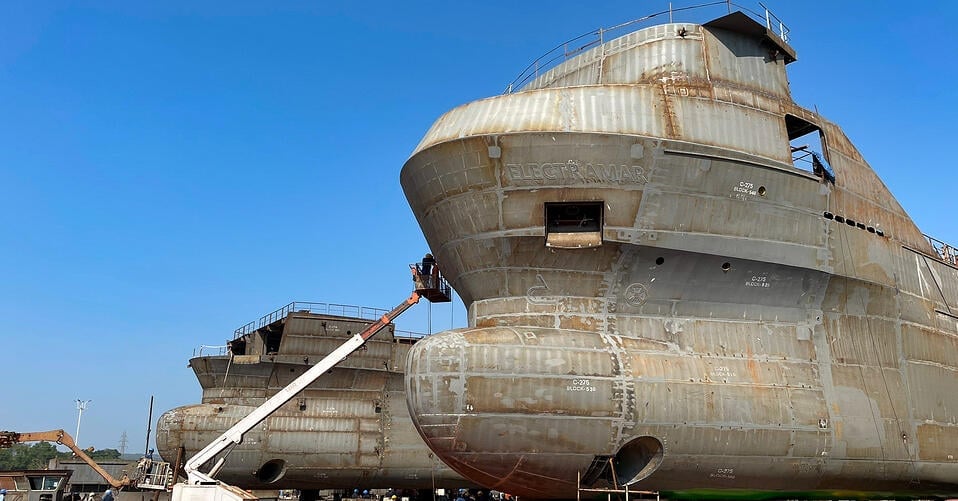 Block assembly of the first two vessels, Electramar and Stellamar, is currently progressing in four parts: aft and forward sections are assembled separately and joined together at the slipway, where the forward part of the first vessel was shifted in mid-December. The block fabrication of the third vessel, Ecomar, is in progress and the keel laying is expected to take place in early February.
The steel was cut for the fourth vessel of the series, named Aquamar, at the end of December 2022. The vessel series comprises a total of twelve ships set to complete delivery in the second quarter of 2026.
Electramar, the first vessel of the series, is scheduled to be delivered in the third quarter of this year and after that, one vessel will follow every three months. 
"It is fascinating to see the first vessels taking shape at the shipyard and we are looking forward to the delivery of the first vessel in the autumn," said Frida Rowland, Director, Corporate Business Development at AtoB@C Shipping and ESL Shipping.
ESL Shipping declared an option for the construction of five additional vessels at the Indian shipyard Chowgule in August 2022, bringing the total to twelve ships.
The 1A ice class vessels will feature battery packs, shoreside electricity solutions and electric hybrid use to enable completely emission-free and noise-free port calls. The loading capacity of the vessels is 5,350 dwt, length is 90 meters, breadth 16 meters, and draft 6 meters.
ESL Shipping said that the ships will have 50% lower greenhouse gas emissions, including CO2, per cargo unit transported when compared to the existing ships.
The company plans to establish a long-term GreenCoaster pool for the vessels together with a group of investors consisting of institutional and private investors.
Of the 12-strong series, every other vessel is to be sold to a company formed by a group of investors.
One month after the option declaration, the company's subsidiary AtoB@C Shipping secured a €32.2 million loan agreement with Swedish ship financing provider Svenska Skeppshypotek for the ships.