Guyana: Orinduik partners in budget planning for 2020 drilling program
Following its recent two oil discoveries, Tullow Oil and its partners in the Orinduik block located offshore Guyana are reviewing multiple prospects on the block and working to approve the budget for the 2020 drilling campaign.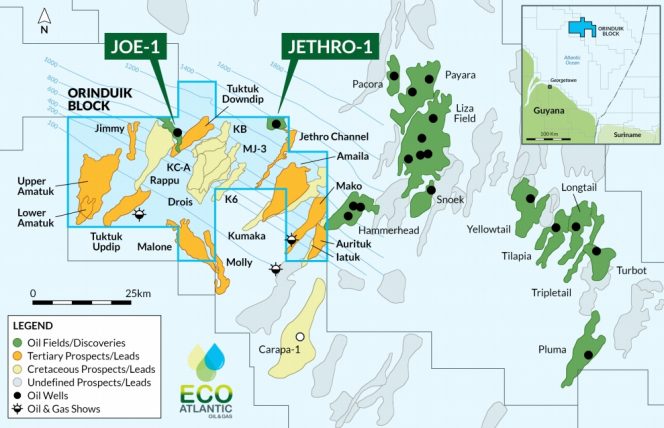 Tullow is the operator of the Orinduik block with a 60% Working Interest while Total and Eco Atlantic have 25% and 15% interest, respectively.
Tullow made its first oil discovery on the Orinduik license – with the Jethro-1 exploration well – in August 2019. The second discovery – made with the Joe-1 exploration well – was announced in September 2019. Both wells were drilled using the Stena Forth drillship.
In an update on Thursday, Eco Atlantic said that the partners were currently reviewing a post discovery drilling strategy and supplemental budget for the block for which Eco will pay its net 15% working interest funded from its existing cash resources.
This includes post discovery activities on the two recent oil discoveries, additional exploration research in relation to future well target selection, and costs associated with activities for the further wells being considered for drilling in 2020.
Eco said that its evaluation of the well data to date on the Jethro-1 discovery had confirmed that the sands intersected were as had been anticipated in the CPR. Interpretation of the data from the Joe-1 discovery is ongoing.
There is the potential for more resource than previously anticipated, and the reservoir and proven oil charge in the Upper Tertiary sands on Joe‐1 provides encouragement in relation to many other Upper Tertiary age locations throughout the Orinduik Block, Eco stated.
 Evaluating requirements for appraisal well 
Colin Kinley, Co‐Founder and Chief Operating Officer for Eco, commented: "Our Jethro‐Lobe discovery, announced in August 2019, is in a clean Lower Tertiary amalgamated sandstone. Tullow described the Jethro-1 well, upon discovery, as having the potential to be a standalone commercial discovery, having a clear seismic definition and excellent reservoir. The JV Partners are currently evaluating the requirements for an appraisal well.
"The Joe‐1 discovery on the Orinduik Block, announced in September 2019, is in a shallow, clean, Upper Tertiary age channel sandstone. Not only have we opened a new shallow play, furthering and de-risking other opportunities on the Block, we have also done this cost effectively. Joe-1, the second well on the Orinduik Block, was drilled at less than half of Jethro-1's cost, on budget – under $21 million gross. We believe that these lower drilling costs positively affect development economics in this play.
"As was the case with the Jethro‐Lobe well, we were able to clearly define the target on the 3D seismic  section of Joe‐1, and the well results were in line with our pre-drill expectations The reservoir and the proven oil charge in the Upper Tertiary sands in Joe -1 also provides encouragement in relation to many other Upper Tertiary locations throughout the Orinduik Block, for example the nearby off‐setting Jimmy prospect where Eco believes we now have a significant increase in the Chance of Success as it appears to be in the same charged sands.
"With further processing and interpretation of 3D seismic data, now correlated with our two well discoveries, the location of further wells to be drilled in 2020 will be defined within the next few months.
"In addition to geological and geophysical interpretation work, Eco and its JV Partners have now begun operational budget planning to secure commercially attractive proposals for the timely provision of materials and services required to allow for our drilling program in 2020."
Many targets to consider
Gil Holzman, Co‐Founder and Chief Executive Officer for Eco, commented: "After great success in our 2019 drilling campaign, with two significant oil discoveries, the JV Partners on the Orinduik Block have many additional targets to consider in the near term. The newly learned results on Orinduik and the results from the Carapa well currently being drilled in shallow water on Repsol's adjacent Kanuku Block, just south of the Orinduik, will greatly assist in our interpretation and selection of future drilling targets. We are pleased to support the further work in 2019 and look forward to approving the 2020 drilling program and budget once finalized. We are sufficiently capitalized for drilling further wells in the 2020 program.
"With ample de-risked prospects and targets on the highly prospective Orinduik Block, Eco is well positioned to continue to generate material shareholder value.
"While we are extremely pleased with our Guyana discoveries and excited by our near‐term drilling plans, we also continue to advance exploration and value creation on our four Namibian offshore blocks, where we are seeing an increased inbound interest and drilling activity in the region."
---
Spotted a typo? Have something more to add to the story? Maybe a nice photo? Contact our editorial team via email.
Also, if you're interested in showcasing your company, product or technology on Offshore Energy Today, please contact us via our advertising form where you can also see our media kit.
Related news
List of related news articles