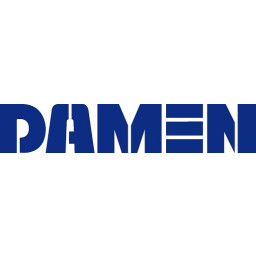 Damen Offshore & Specialized Vessels
QA/QC Coördinator
As Damen Offshore & Specialized Vessels we design and deliver maritime projects for various markets like Defense & Security, Public Transport, Offshore and Dredging.
Our projects are Engineered to Order (ETO). Which means we are involved throughout the project, from the commercial phase and building the PM strategy, until commissioning, delivery and warranty. This makes our work very challenging.
The environment is complex and we have a lot of stakeholders. We work in close cooperation with various internal departments, (sub)contractors, teams on the shipyard and of course the client and her representatives.

We do this with an international team of 'can-do' people that are developing new and innovative technologies and ways to support customers and push for a more sustainable maritime industry.
We are looking for a QA/QC coördinator with a strong focus on quality to reinforce our HSSEQ department within Offshore & Specialized Vessels division, but also to participate in HSSE matters. In this position you will maintain the operating system (Quality Management System OSV) and perform internal audits related to the defined processes, developing and improve processes together with the Business Process Owners, keep the program ZENYA up-to-date and manage the HSSEQ documents. Besides that you will set-up and manage the continuous improvement program of the department. Damen use the tool RDrive for register and manage issues and punch list items, the further development of the use of this program will be part of your responsibility as well.
To increase the safety and quality consciousness and to be able to report on these matters you will also be involved in create and set-up reports. Your activities will be in the field of:
ISO compliance (prepare external audits, follow-up on NCs and Observations raised);
Consolidating QA/QC reporting, analyzing data and propose improvement actions;
Preparation of project QA documents (PQP, NC Register, etc.);
Prepare risk-based project Inspection and Test Plans (ITP);
Prepare and conduct Subcontractor audits and Factory Acceptance Tests;
Attend risk sessions e.g. HAZID, HAZOP;
Conduct Yard Audits bases on Operating Systems and JH 143 requirements;
Conduct QC inspections on invitations for projects;
Writing articles, QA and QC related for the OSV newsletter.
We left the abbreviations in so you can show us what you know when you are invited for an interview. Of course we realize that this is an impressive list but please do not forget that at this moment the department consists of four dedicated and fun colleagues to get the job done. You're not on your own.
Daily monitoring HSSEQ business operations;
Follow up and implement action points arising from continuous approval;
Attend kick-off meetings of tenders and projects in order to guide, monitor and follow up on QA/QC-related issues;
Define, implement and secure work instructions and methods for (deviating) standards;
Analyze, assess, implement and secure changes related to quality aspects in the Operating  System;
Point of contact for external auditors in all ISO certification-related matters (9001/14001/45001);
Point of contact for OSV yards for all QA/QC related matters;
Preparation and supervision of periodic in- and external (customer) audits, e.g. DNV.
In order to be successful in this role you bring the following:
A completed Bachelor (HBO) level in the field of QA/QC;
5 years+ working experience (of which preferably 3 in shipbuilding industry);
Experience in the Offshore Wind Industry would be nice;
Safety certificate e.g. VCA VOL;
Fluent in English, verbally and written;
Willingness to travel to our yards in Romania and Vietnam;
Fulltime availability.
We want to make sure you are happy in this role, so we will support you to develop yourself in this position. We are a growing organization where innovation is the driving force. Entrepreneurship is in our DNA, and that's why we continue to grow and innovate and offer plenty of opportunities. All you have to do is grab them. 
We offer you:
Personal guidance, freedom, varied work and a work environment where your opinion counts;
An excellent benefits package tailored to your experience and education level;
A work from home policy;
A dynamic international working environment focusing on technology and innovation;
An open, informal, no-nonsense culture with short communication lines;
An active social environment in terms of business culture, events and sports.
We look forward to meeting you! Do you need more information? Don't hesitate to get in touch with Gerard Eggink (Recruiter) 06-10 26 55 93

Damen OSV does not approve of a commercial, contractor and/or agency acquisition or commercial use of this advertisement. Proposing candidates without invitation is not appreciated and will not be considered.
#LI-GE2