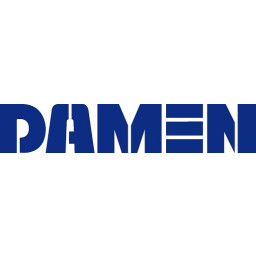 Damen Workboats
Lead Engineer Electric and Hybrid Propulsion
The development of electrification within the Shipbuilding industry is increasing fast. Damen Workboats wants to be in the forefront of these developments and is constantly looking for new ways to develop, design and implement inventive electrical systems. In order to achieve our goals we are looking for a Lead Engineer Electric and Hybrid Propulsion.
Are the one driving these developments by inspiring colleagues, applying the latest techniques and engineering principles? Then this is your role! Apply now!
As a lead engineer Electric and Hybrid Propulsion you are part of the electrification team within the division Workboats. This multi-disciplinary team is responsible for the development and standardization of the technology required for the electrification of the workboat product portfolio. A product portfolio consisting of High Speed Crafts, Ferries, Tugboats and stationary dredgers. In this role you will be responsible for the engineering of the modular technology that fits this variety of vessels and operational profiles. A challenging task in which you are involved from the development of the systems to the successful implementation into our projects. You will report to the Team Leader E&A within the engineering department.
In this role you will be:
Engineering and managing a range of systems, like power generating systems, electric drives, propulsion motors, energy storage systems and auxiliary systems;
Contributing to the development of new technology required for Electric and Hybrid propulsion systems;
Managing the interfaces with other sub-systems (mechanical/shipbuilding disciplines);
Providing input for Technology Development roadmaps​;
Contributing to the engineering process by developing the required deliverables, such as specification documents, functional descriptions, system principles and modular engineering building blocks;
Supporting the successful implementation of this technology into our products;
Supporting our production locations when manufacturing our vessels;
Supporting the design and proposal engineers on new vessel designs;
Providing knowledge and training to our Services Department;
Supporting on the sub-systems during the complete vessel lifecycle;
Giving feedback on design improvements.
To be successful in this role you have:
A Bachelor's degree in Electrical Engineering or another relevant technical study;
At least five years relevant work experience, preferably in the shipbuilding industry;
Demonstrable knowledge on electrical and hybrid propulsion systems, e.g. multi-drives systems and large energy storage systems for electric propulsions;
Knowledge of international rules and experience in working with Ship Classification Societies;
Capability to translate product requirement into system requirements, concept design and basic engineering;
Experience with the integration of electrical systems in shipbuilding;
Excellent communication skills in English, Dutch is a plus.

As a person you are:
Result-oriented, a Lead Engineer with initiative, management skills and ownership;
A pragmatic, persuasive Engineer with a solid personality, fitting within a dynamic organization with a hands-on culture;
A team player with an enthusiastic, open, communicative and proactive personality who gets energy from working in multi-disciplinary teams;
Decisive and at the same time flexible in your approach while working methodically;
Able to influence, put things into perspective of the bigger picture;
Well able to manage expectations;
Willing to travel (short trips about 1 to 2 times a year).
We want to make sure you are a happy and succesful Lead Engineer Electric and Hybrid Propulsion, so we will support you to develop yourself in this position. We are a growing organization where innovation is the driving force. Entrepreneurship is in our DNA, and that's why we continue to grow and innovate and offer plenty of opportunities.
We offer you:
Personal guidance, freedom, varied work and a work environment where your opinion counts;
An excellent benefits package tailored to your experience and education level;
A dynamic international working environment focusing on technology and innovation;
An open, informal, no-nonsense culture with short communication lines;
An active social environment in terms of business culture, events and sports.
We look forward to meeting you! Do you need more information or are you looking for something that suits you better? Don't hesitate to get in touch with Gerard Eggink (Recruiter) 06-10 26 55 93
Damen Workboats does not approve of a commercial, contractor and/or agency acquisition or commercial use of this advertisement. Proposing candidates without invitation is not appreciated and will not be considered.

More jobs from Damen Workboats
For our office in Gorinchem, we are looking for an enthusiastic, communicative and experienced Proje...
Do you want to work with an international team of 'can-do' people that are developing new and inno...