Talk Show: Renewables Are Not the Only Solution
Wednesday 27 October 2021 | 10:00 – 11:00
Will renewables get us climate-neutral in Europe by 2050? Or should we look at other solutions to curb climate change? Think of carbon capture, geoengineering, energy efficiency and nuclear energy. And what about climate adaptation?
Speakers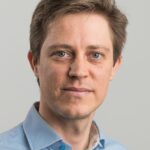 Pieter Huyskens
Damen Shipyards Group
Pieter Huyskens is an electro-mechanical engineer by education. After his studies he started his career as a lecturer and researcher at the Karel de Grote University College in Antwerp and combined this, later on, with a research fellow position at the University of Ghent, where he worked on combustion engines and all types of alternative fuels. Ten years ago Pieter started at Damen Shipyards in the R&D Department, where he held different positions. He started as Research Engineer Sustainability and continued on the same subject as Program Manager Sustainability. From there he moved to the position of Manager Research and now, since 2018, he is Head of the Central Expertise Center for R&D in the Damen Group, where he continues to push sustainability as an import topic for the future of the maritime industry.
OEEC 2021 content programme
The offshore energy sector is changing. Developments like the energy transition and the need for sustainability are reshaping the industry. During OEEC 2021 we will discuss this transformation and highlight the different facets of an industry in change.