Talk Show: Energy Transition; Who Leads the Dance?
Wednesday 27 October 2021 | 16:00 – 17:00
Talk is cheap and action speaks louder than words. Who takes the first real step towards a sustainable future? As an industry we are in the spotlight when it comes to the energy transition. Are we following or leading in this transformation? What is the role the governments? What do the front runners of the energy transition have the world to offer?
Speakers
Patricia Selbold
PWC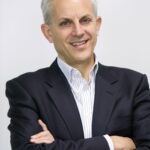 Alexandre Chavarot
Climate Finance 2050
Alexandre Chavarot is an independent finance professional focused on delivering solutions to the challenges posed by climate change and sustainable development. He has more than 25 years of experience advising clients on project & corporate acquisitions, investments and financings in the energy and infrastructure sectors with leading investment banks, foundations and advisory firms.

Alexandre is the founder of Climate Finance 2050 Limited, through which he consults on climate and sustainability-related financial issues. He is also a Senior Adviser at ACCESS Corporate Finance, a London-based financial advisory firm providing M&A services. He is currently acting as strategic adviser to Willis Towers Watson in relation to the Coalition for Climate Resilient Investment, a COP26 initiative.

Alexandre is a member of the Chartered Institute for Securities & Investment in the UK and is on the advisory panel of the Climate Bonds Initiative. He is also a visiting lecturer at Sciences Po in Paris where he teaches climate change and finance. He has been selected to attend the 2021-22 session of the Institut des Hautes Etudes de Défense Nationale in France, focusing on strategic maritime issues.

Alexandre holds degrees from Sciences Po, the Harvard Kennedy School and INSEAD.

This session is sponsored by: GustoMSC

OEEC 2021 content programme
The offshore energy sector is changing. Developments like the energy transition and the need for sustainability are reshaping the industry. During OEEC 2021 we will discuss this transformation and highlight the different facets of an industry in change.