VIDEO: Final decommissioning of BP's Miller platform
British oil major BP has released a video of the final decommissioning of the Miller platform located in the UK North Sea.
BP published the video on its YouTube channel on August 24, 2018. The company stated in the video that the final decommissioning of the Miller platform was executed between January 2017 and July 2018.
Twelve topsides modules and the jacket were removed and transported to a disposal yard by the Saipem 7000 heavy lift vessel with a total of 28,200 tonnes of topsides removed.
The vessel in charge of decommissioning has a 14,000-tonne lifting capacity and is capable of laying subsea pipelines in ultra-deep waters.
BP added that subsea cutting of the 11,500-tonne jacket and subsea structures were completed following the removal of the topsides.
It is worth reminding that Petrofac was awarded a Duty Holder contract from BP to support the late life management of the Miller platform in April 2016. The company assumed operator responsibility for the platform and agreed to manage all aspects of on and offshore activities during the decommissioning program.
Miller field
The Miller field is situated 270km north east of Aberdeen, in Blocks 16/7b and 16/8b, in the Central North Sea. BP is the field operator, and its partners are ConocoPhillips and Shell. The Miller platform was an integrated oil and gas drilling, production, processing, and accommodation platform installed in 1991.
The field ceased production in 2007 and the UK Government approved the decommissioning program in December 2013.
The pipelines which were used to export oil and gas from the Miller installation were flushed clear of hydrocarbons and left in place for potential future use.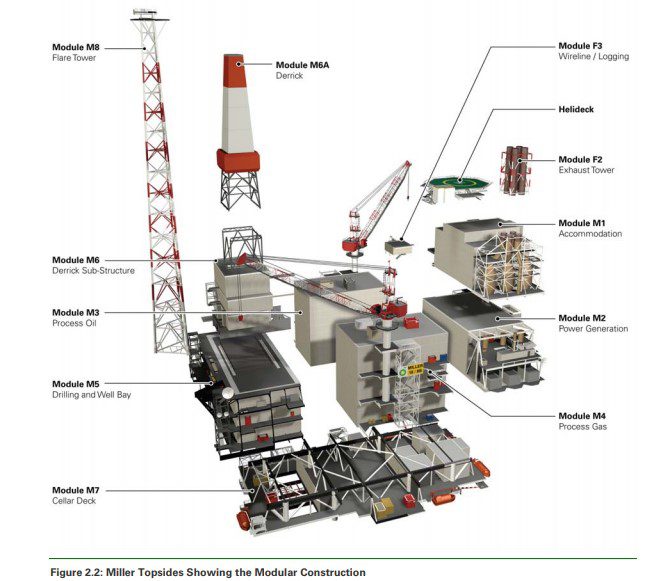 Offshore Energy Today Staff