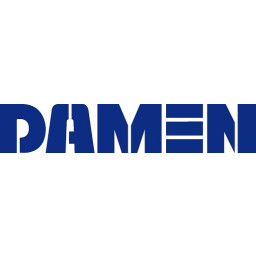 Damen Naval
Graduation Thesis Project Hydrodynamics
Damen Naval offers you a career that is challenging, exciting and fun in equal measure. The Naval division of the family-owned Damen Shipyards Group is established in Vlissingen and in Schiedam. It is a company with more than 1.000 professionals, and a rich tradition of naval shipbuilding, its original roots stem back more than 150 years. For more than 50 years Damen Naval has been the dedicated shipbuilder for the Royal Netherlands Navy. Based on decades of accumulated experience, Damen Naval offers navies worldwide a broad range of defence and security vessels, ranging from 7m to more than 200m in length. Damen Naval is the only supplier of naval vessels in the Netherlands. Damen Naval has delivered more than 420 vessels to satisfied customers all over the world and have has earned a reputation for excellence along the way. While taking pride in heritage, Damen Naval is also looking towards the future. Are you ready for duty?
Damen Naval boasts a state-of-the-art Engineering organisation, which is responsible for basic and detailed engineering of ships consigned to Damen Naval for production at the Vlissingen yard and to an increasing extent for production abroad. The Naval & Structural group is part of the Engineering department. The employees have been divided over projects, in which they contribute to both product definition and the engineering of production information within their field.
Damen Naval is continuously improving its knowledge in the field of fluid dynamics. Computational fluid dynamics (CFD) is used on a routinely daily basis for almost every project. In addition supporting research is facilitated by model basin tests or wind tunnel tests to provide optimum designs of our vessels. Already early in the design stage CFD is used for hull form optimization. Investigation of superstructure aerodynamics is performed to improve the flow field at the helideck and to study exhaust gas hindrance. Various graduate research projects are available within the Hydrodynamics team, which is part of the Research and Technology Support department. Some possible subjects are:
Evaluation of added resistance in waves.
Evaluation of bow thruster tunnel entrance design and the effect on ship resistance and bow thruster performance.
Evaluation of motions during launch and recovery of boats through the stern slipway.
Evolution of the uncertainty in CFD resistance calculations within a series of hull forms.
Wave run-up in a recess.
Impact of CAD model simplifications on wind loads and exhaust gas trajectories.
URANS application for smoke dispersion.
Investigation of impact of waves on smoke dispersion and superstructure flow field.
Automation of setting Openfoam boundary conditions.
In addition, a combination of different subjects is possible.
As a Graduation Thesis Project Hydrodynamics at Damen Naval you will face multiple aspects of applying advanced CFD methods in various phases of ship design. For the development of these methods various design tools are available that assist you in achieving your research goals. You will be responsible from day one for the planning and execution of your research project. You are expected to deliver a detailed in-depth analysis of your research problem and meanwhile be able to communicate the results and conclusions to other departments.
Send us your motivation and favourite subject as well as your CV directly via our career website!
The perfect candidate for the graduation thesis Project Hydrodynamics has the following characteristics: 
Top class student Master student Naval Architecture, Maritime Technology, Aerospace engineering, Mechanical engineering or Applied Physics.
Passionate about ships and shipbuilding and familiar with hull form design principles
Basic experience in CFD analysis or have a proven ability and specific motivation to become familiar with this subject in a very short time.
Familiar with 3D CAD software (such as Rhino), able to use programming tools (e.g. Python) and familiar with Linux.
Capable of identifying and communicating with multiple stakeholders.
Independent, curious, analytical and proactive.
Fluent in English both verbal and in writing.
Excellent antecedents because a pre-employment security screening is a standard part of the recruitment procedure.
Permanent multiyear EU citizenship combined with permanent EU work visa are all requirements of the recruitment process for viable candidates, given the military nature of clients and projects.
At Damen Naval, we highly value our employees, and we will support your professional and personal development. To that end, we invest in all our employees by offering:
A technology and innovation focused, dynamic, international work environment.
Ongoing learning and development opportunities within a diverse and rewarding work environment.
An active social environment in terms of business culture, events & sports.
Are you interested in the position of Graduation Thesis Project Hydrodynamics, and do you recognize yourself in the job description? Please respond directly via the Damen Career Portal.

For more information about the vacancy, Damen Naval or the application process, please visit the Damen Naval website, the Damen Career Portal or call the Corporate Recruitment department on +31 (0)118- 485 000. 
Damen Naval is closed from 31 July until 13 August due to the summer holiday. This will result in a delayed response to your application.
Please note, that only candidates with a permanent EU citizenship together with a permanent valid EU work visa can be considered as viable candidates. A pre-employment and security screening and investigation form part of the recruitment process. #LI-DNS1
Damen Naval does not approve commercial, contractor and/or agency or other commercial use of this advertisement. Proposing candidates without invitation is not appreciated and will not be considered.