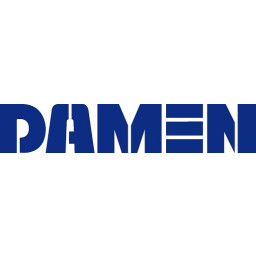 Damen Services
Service Line Manager - Deliveries, Field Service, ...
Damen Services is a team of creative, entrepreneurial, and motivated people who support each other and enjoy coming to work each day. We interact directly with Damen customers around the world, helping them find solutions to challenging situations.
Our team goes the distance for each other and for our customers, and we all take pride in our ability to put groups of skilled, 'can-do' team members together to find and implement solutions. Damen Services provides lifecycle support services with a strong focus on Damen built vessels. The range of services stretches from reactive and corrective, triggered by calls from our customers, up to services with a pro-active market approach and predictive maintenance.
We care for each other, for our clients and for their Damen vessels.
As Manager Deliveries, Field Service, Training and Travel you are responsible to deliver a variety of services to our Clients with a team of truly engaged and committed professionals.
You are a people manager for your teams with a great sense of responsibility to balance operational priorities with wellbeing of all your team members and deliver optimal and predictable service to our Clients. You are a leading team player, able to set priorities for your teams, coach your colleagues, act as an escalation level if needed and pro-actively manage your stakeholders. You are responsible for department management and coverage, ensure to be in check of your teams projects at all times and ensure personal development of your teams.
Our Field Service pool consists of approximately 45 field engineers that operates worldwide to serve Damen clients in mainly warranty, maintenance execution and operational support on board. The Deliveries team delivers Damen built vessels safe and secure from the building yards to any place around the world, either on own keel or via heavy lift transportation. Training offers a variety of training to customers ranging from familiarization to extensive maintenance and operational training. The travel desk serves as an internal travel agency for the complete Damen Services division. You will manage a team of +/- 65 fte with 7 direct reports in Deliveries, Field Coordination, Training and Travel.
In your role you will report to the Operations Director of Damen Services.
Management of departmental budgets, capacity and processes;
Maintain project discipline for your teams to secure predictable deliverables and results and set priorities when needed;
Personal development and wellbeing of your team;
Safe and secure work environment for all activities of your team in close consultation with Damen Services HSSEQ department;
Develop Field Service expertise into full Damen OEM service provider;
Ensure compliancy to applicable regulations for our travelling staff in close consultation with Damen Services HR;
Initiate development to materialize opportunities in service delivery of your teams;
Manage contractual agreements with subcontractors (crewing, training, hired capacity);
People manager that can relate daily practice to business requirements;
Thorough understanding of vessel operation and nautical situations;
Basic knowledge and understanding of vessel maintenance and repairs;
Background in the maritime industry, preferably including practical experience in nautical, maintenance and/or service operations;
Pragmatic and solution driven approach;
Ability to interact and align with stakeholders on multiple levels within Damen Services and Damen Group;
Minimal of 10 years work experience and an HBO thinking level in maritime, nautical or technical expertise;
Ability to maintain a safe work environment;
Have fun and enjoy working for Damen Services;
At Damen we realize that supporting and managing many talented individuals is of great essence. We understand that the key to success is to find the right person for the right job. That is why we continuously invest in your development. Damen offers you (in case of full time employment):
A dynamic international working environment focusing high quality service and customer satisfaction;
A competitive salary and secondary benefits;
At least 40 days of annual leave;
Company car or mobility compensation;
Profit sharing & pension allowance;
Continuous focus on professional and personal development through our Damen Academy;
A working from home policy;
Occasional travel;
An active social environment such as events and sports;
A great division within the Damen Shipyards Group to work for.
#LI-AV1
Apply online for the position of Service Line Manager by scrolling down and using the apply button at the bottom of this page. We look forward to meeting you!
Damen Services does not approve of a commercial, contractor and/or agency acquisition or commercial use of this advertisement. Proposing candidates without invitation is not appreciated and will not be considered.