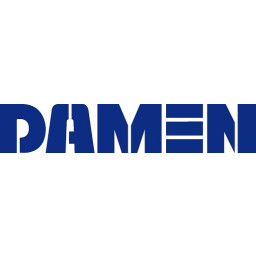 Damen Workboats
Sales and Operations Planner Damen Workboats
At Damen Workboats our goal is to develop, design, and construct a portfolio of tugs, dredgers or workboats in the most effective and efficient manner, primarily based on series production of smart-customized standard designs. Damen Workboats offers a range of innovative, standardized & smart-customized designs, fulfilling current and developing market demands, with well-balanced levels of quality, service, price, and delivery time thereby providing optimal solutions for our clients.

Within Damen Workboats, the Engineering department is responsible for the development of new ship-types, maritime solutions and the management of standard ship-types.

Within this department Engineering, there is one team responsible for the development of the standard systems, parts and solutions: Team Standardization. This highly innovative team develops and maintains all the building blocks which will help Damen to reduce costs, lead-time and improve quality.
In this role you will further professionalize the Sales & Operations Planning process and insights within Damen Workboats. In this process the whole chain for realizing our products is involved; such as the Sales, Project Management, Engineering, Supply chain and our Yards in countries as Vietnam, Turkey, China, Abu Dhabi, etc.
Damen Workboats is continuously growing and in a very important transition phase to develop and build vessels to zero emission. Therefore involvement in the development will be required to roll-up Damen projects to portfolio level.
In order to professionalize this process, on one hand you look at the input for this process and on the other hand to the tooling to facilitate this process. You therefore need to be proficient with ERP tooling and preferably planning tooling. As this process involves many stakeholders and is key for our business, you need to be someone who persuades and collaborates easily. You are working together with your key stakeholders to take the Sales and Operations Planning process to the next level.
In this role you will be:
Investigating and discussing with stakeholders what is needed to come to an automated and integral Sales and Operations Planning process;
Creating a Sales and Operations Planning overview in Primavera to facilitate the discussion between Demand (Sales) and Supply (Operations);
Creating and driving continuous improvement of world-class demand planning and Sales and Operations Planning processes;
Measuring, controlling and improving Sales and Operations Planning accuracy through clearly defined metrics;
Coordinating, facilitating and documenting of regularly scheduled planning meetings.
Most important to be successful in this function, is that you are someone who is able to professionalize Sales and Operations Planning by connecting people while being analytical and proficient with ERP tooling.
We require you to bring:
A minimum of three years working experience in a technically oriented company, preferably shipbuilding;

An educational background on HBO/WO level in for example Technical Business Administration, Business Administration- Working experience with Sales and Operation planning;

Proficient with ERP system (advantageous: SAP) and preferred is knowledge about planning software (advantageous: Primavera)
We want to make sure you are a happy Sales and Operations Planner, so we will support you to develop yourself in this position. We are a growing organization where innovation is the driving force. Entrepreneurship is in our DNA, and that's why we continue to grow and innovate and offer plenty of opportunities. All you have to do is grab them.
We offer you:
Personal guidance, freedom, varied work and a work environment where your opinion counts;
An excellent benefits package tailored to your experience and education level;
A dynamic international working environment focusing on technology and innovation;
An open, informal, no-nonsense culture with short communication lines;
An active social environment in terms of business culture, events and sports.
We look forward to meeting you! Do you need more information? Don't hesitate to get in touch with Gerard Eggink (Recruiter) 06-10 26 55 93

Damen Workboats does not approve of a commercial, contractor and/or agency acquisition or commercial use of this advertisement. Proposing candidates without invitation is not appreciated and will not be considered.
#LI-GE2
More jobs from Damen Workboats
As a Lead Engineer Mechanical/Hydraulic, you will be part of our standardization team responsible fo...
You create the new projects in our systems which are based on templates, ensure that the right peopl...