Hudong-Zhonghua Shipbuilding wins nod for three ship designs featuring LNG, ammonia and methanol
Chinese shipbuilder Hudong-Zhonghua Shipbuilding, a subsidiary of China State Shipbuilding Corporation (CSSC), has received Approval in Principle (AIP) certifications from major international classification societies for three cutting-edge ship designs.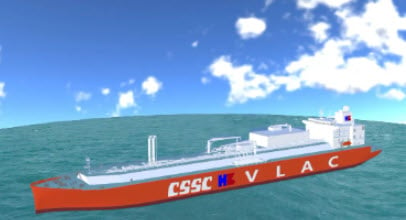 These include a 98,000 cbm liquefied ammonia carrier, 16,000TEU methanol-powered containership and a three-tank 174,000 cbm LNG carrier.
The three ship designs are a result of intensive research and design effort as part of its strategy to develop clean energy transportation and low-carbon fuelled ships with the aim of helping accelerate the maritime industry's pursuit of cleaner and more sustainable solutions.
The designs were presented at a recently held seminar hosted by the shipyard. Classification societies American Bureau of Shipping (ABS), Lloyd's Register (LR), and Chinese Classification Society (CCS) availed of the occasion to present Approval in Principles (AIPs) for the 98,000 cbm liquefied ammonia carrier.
With full intellectual property rights, the vessel is uniquely designed to accommodate different types of liquid cargo and maximize hull space utilization. The shipyard tapped into more than 20 years of professional experience in low-temperature gas storage and transportation equipment to develop the vessel. The ship has a total length of 230 meters, a molded width of 36.6 meters, and a molded depth of 23.4 meters.
Ensuring crew safety during operations, the ship's ammonia fuel leakage detection, delivery pipelines, supply systems, and water spray absorption systems have been carefully engineered.
The shipyard's 16,000TEU methanol-powered containership design has secured approvals from ABS, LR, CCS, DNV and Bureau Veritas.
Featuring a length of 367 meters, molded width of 51 meters, and molded depth of 30.2 meters, the vessel has an 11,000 cbm methanol tank. The ship key features icnlude low fuel consumption rate and excellent performance as well as light structure and strong cargo capacity. Hudong-Zhonghua hoped that the new design will provide a competitive new option on the market as the shipping industry continues to experience growing demand for methanol-powered ships as part of its decarbonization drive.
Finally, the company won AIPs for its three-tank 174,000 cbm LNG carrier jointly developed with GTT. Approvals were assigned by BV, DNV, and CCS.
Building upon the successful G5 LNG carrier, the ship boasts an optimized design, reducing the number of liquid cargo tanks from four to three. This three-tank LNG carrier concept permits a reduction in construction costs through the suppression of one cofferdam, one pump tower and all associated cryogenic equipment (liquid and gas domes, valves, piping, radars, etc.)
This type of ship has an overall length of 290.0 meters, a molded width of 46.4 meters, a design draft of 11.5 meters, a cabin capacity of 174,000 cubic meters, and a service speed of 19.5 knots. It is equipped with GTT NO96 Supper+ cargo containment system. 
This innovation results in a more lightweight hull, smaller scale, reduced cryogenic equipment, and shorter construction periods, significantly improving the vessel's overall economy and convenience throughout its lifecycle.
Hudong-Zhonghua also signed a joint development agreement with CSSC Power (Group) Co., Ltd. and CCS, a subsidiary of China State Shipbuilding Corporation, to develop an ammonia fuel power system customized for a zero-carbon ship type.