Kawasaki Launches UK Subsidiary for AUVs Production
Kawasaki Heavy Industries has launched Kawasaki Subsea (UK) Limited in Aberdeen, its new subsidiary specializing in the production, sale and post-sale servicing of AUVs.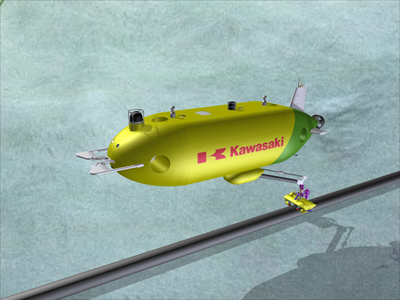 With a focus on the growing demand for pipeline maintenance in offshore oil and gas fields, Kawasaki has been developing an AUV equipped with a robot arm for performing subsea pipeline inspections, based on a fusion of submarine technologies and industrial robot technologies fostered in-house over many years.
Kawasaki plans to launch the AUV in fiscal 2020. Prior to that, the company intends to increase its market presence and construct a business network through the new company, which is strategically located in Aberdeen-a hub city for North Sea oil and gas businesses, the company said.
Following the establishment of this local subsidiary of the company, Scottish Economy Secretary Derek Mackay said: "I am delighted to welcome Kawasaki Heavy Industries who set up an office in Aberdeen. There have been a number of joint subsea projects between Scotland and Japan, and I am confident that Kawasaki Heavy Industries will play a leading role in this two-nation relationship in the subsea industry." 
Kawasaki also intends to launch operations and maintenance services businesses using AUVs in the future, and to apply the AUV to areas other than pipeline inspections.