Look back at OEEC 2022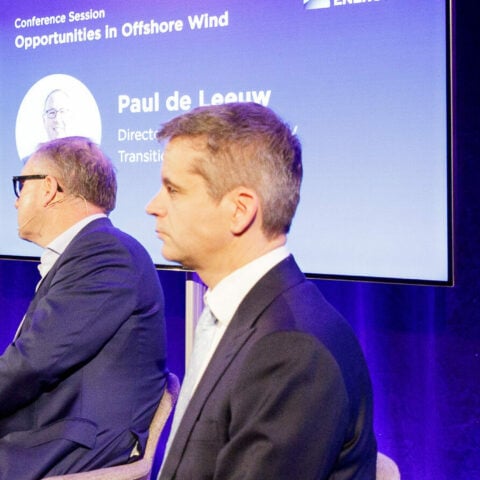 For those who want to look back at the content program of OEEC 2022, all sessions have been recorded and are available On Demand.
Conference OEEC 2022
In last year's conference sessions industry experts shared their visions for the market and the future. Some difficult topics were on the table such as a sustainable implementation of hydrogen in our lives, regulations and supply chain in the global offshore wind industry and the industry's trajectory toward 2030 and 2050.
During the conference session 'The executive outlook' the vision on the future of offshore energy was covered. To get there collaboration is vital. "We must do everything in Europe to become independent from fossil imports as soon as possible. We must accelerate the transition to a sustainable and climate-neutral energy supply", stated Manon van Beek, CEO of TenneT.
Across all conference sessions speakers included:
Adam Middleton, Managing Director The Netherlands & VP for Western Europe at Siemens Energy
Manon van Beek, CEO of TenneT
Han Fennema, CEO of Gasunie
Renske Ytsma, Director Offshore Wind Development Continental Europe at RWE Renewables
Wilfried Vandersippe, Head of Business Development Offshore Wind at TotalEnergies
Arnoud Kuis, Managing Director Offshore Wind at Van Oord
Joop Roodenburg, President of Huisman
Opportunities in Offshore Wind:
Adam Middleton, Siemens Energy
The Stage OEEC 2022
Last year's content program covered a great variety of inspiring topics. Industry leaders came together to connect and discuss innovations and trends. The event covered topics such as energy security, hydrogen, human capital, offshore wind, and marine energy.
Across all The Stage items speakers included:
Ina Kamps, Vice President Offshore Wind Growth at BP
René Peters, Business Director at TNO
Guillaume de Witt, Hydrogen Lead Negotiator, Europe & North Africa at TotalEnergies
Caroline Justet, Vice President Europe at Strohm
Andries Hofman, Product Development Manager at GustoMSC
Edwin van de Brug, Regional Manager Offshore Wind at Van Oord
Jan Vos, Chairman of the Dutch Wind Energy Association (NWEA)
BP about Low Carbon Energy Integration at The Stage OEEC2022
Interview TotalEnergies at The Stage OEEC2022