Regulator tells Woodside to modify environment plan for Achenar drilling
Australian oil company Woodside Energy's environment plan for a proposed drilling campaign in the WA-28-P permit north-west of Dampier offshore Western Australia has not satisfied the safety regulator NOPSEMA, and has been sent back to the company for a revision.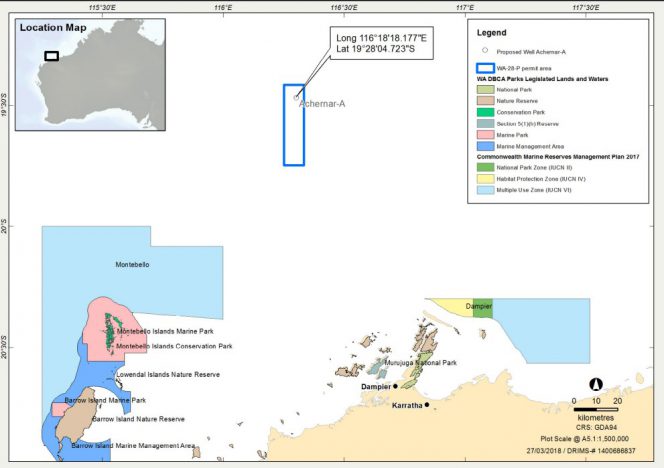 Woodside's drilling plan envisions drilling up to six exploration and appraisal wells, including the Achernar exploration well. For this to proceed, Woodside needs approval for its environment plan.
The Australian company first submitted the EP to Nopsema in September 2018. NOPSEMA has since requested additional info from Woodside on two occasions, only to come up with the decision last week that Woodside's EP plan for the WA-28-P did not reasonably satisfy its criteria.
"NOPSEMA has assessed the environment plan in accordance with its assessment policies and procedures. On completion of assessment, NOPSEMA has decided that it is not reasonably satisfied that the environment plan meets the criteria below as set out in regulation 10A of the Environment Regulations: (a) is appropriate for the nature and scale of the activity; and (e) includes an appropriate implementation strategy and monitoring, recording and reporting arrangements," NOPSEMA said last Friday.
NOPSEMA did not go into details about what exactly was lacking within the Woodside EP plan.
Woodside has now been asked to modify and resubmit the environment plan.
"Upon resubmission of the plan, NOPSEMA will continue to assess the submission in accordance with its assessment policies and make a decision under regulation 10. After a titleholder has been provided with reasonable opportunity to modify and resubmit an environment plan, NOPSEMA will make a final decision on whether to accept or refuse to accept the environment plan," NOPSEMA said.
If the plan eventually gets the approval, Woodside will first drill the Achernar exploration well, and the remaining exploration and appraisal wells will be confirmed and planned pending outcomes of Achernar. The proposed drilling work is scheduled to begin in the second quarter of 2019.
Drilling of the Achernar and other wells (exploration and appraisal) is expected to take approximately 90-120 days per well to complete.
The closest landfall to the permit area are the islands of the Dampier Archipelago, which are approximately 85 km south south-east at the closest point. Water depths within the permit area range between 100 m to 129 m.
According to NOPSEMA, Woodside is expected to submit the new EP by February 10, 2019.
Offshore Energy Today Staff
Related news
List of related news articles