Rystad: Discovered oil and gas resources to reach 10 billion boe in 2020
Despite concerns that Covid-19 could drive down discovered volumes to their lowest levels in decades, exploration activity has been resilient this year with discovered resources set to hit 10 billion boe in 2020, Rystad Energy stated.
Energy intelligence firm Rystad Energy said on Monday that discovered resources so far exceed 8 billion barrels of oil equivalent (boe) and were projected to settle at around 10 billion boe by year-end.
About 3.75 billion boe, or 46 per cent of total discovered volumes, are gas while liquid volumes are estimated at 4.31 billion boe. Yet-uncounted resources in finds like Sakarya in Turkey point to additional upside, meaning that 2020 will avoid returning to the multi-decade low seen in 2016 at just 7.7 billion boe.
The 73 new discoveries announced this year through October are evenly split between land and sea with 36 onshore and 37 offshore.
Russia leads in terms of discovery volume, with 1.51 billion boe, while Suriname comes second with 1.39 billion boe, and the UAE follows third with 1.1 billion boe.
Of the offshore volumes, which account for slightly over three-quarters of discovered resources, 33 per cent was found in ultra-deep waters, 38 per cent in deepwater areas, and 29 per cent in shallow waters.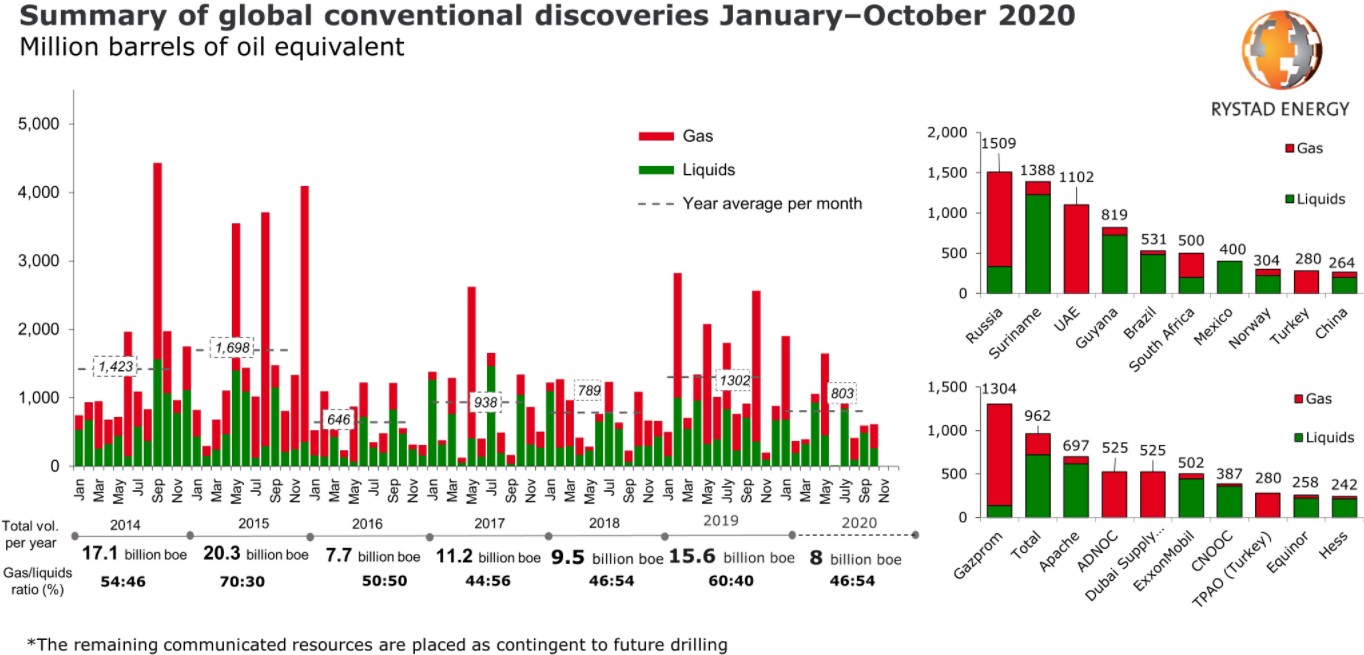 Rystad stated that looking at the timing of the discoveries, the third quarter was the weakest with about 2 billion boe of new finds compared to about 2.7 billion boe during each of the first two quarters.
Palzor Shenga, a senior upstream analyst at Rystad Energy, said: "Global oil and gas operators will chase plenty of additional volumes in wildcats planned for the final two months of 2020, although some may not be completed until early 2021 and will therefore add to next year's tally.  We believe discovered volumes are likely to settle at around 10 billion boe".