10 years later, Canada remembers those killed in Flight 491 crash
Canada's Newfoundland province is today remembering those killed in the Cougar helicopter crash offshore Canada ten years ago.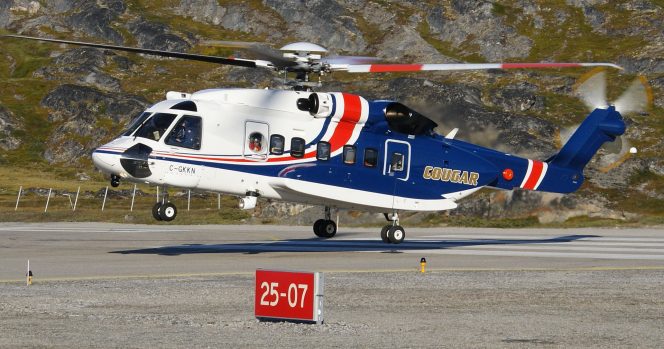 On March 12, 2009, Cougar helicopter Flight 491 was flying to the White Rose and the Hibernia fields when it crashed offshore 55 kilometers (34 mi) east-southeast of St. John's, Newfoundland.  Of the 18 passengers on board the helicopter, 17 died.
Remembering the tragic event, Charlene Johnson, CEO of NOIA, the country's largest oil and gas association, said: "Flight 491 has had a profound effect upon our province and offshore industry. The memory of those who lost their lives that day remains strong and today we honor them and offer our support to their loved ones"
Husky Energy, the operator of the White Rose field, said:"Today marks 10 years since we lost Cougar Flight 491 and 17 of the people onboard. March 12, 2009 and the days that followed forever changed the families of those lost and all of us at Husky. We will always remember them"
The Annual Flight 491 Memorial Service will take place today (Tuesday, March 12) at 7:00 p.m. at the Elim Pentecostal Tabernacle, Kenmount Road, St. John's.
Remembering my brother Pete, his co-workers and their families on 10th anniversary of the Loss of Cougar Flight 491 on March 12th 2009. Also remember the families and those lost on the Universal helicopter crash Placentia Bay on March 13, 1985 pic.twitter.com/rO80T6CuS5

— Mayor Danny Breen (@DannyBreenNL) March 12, 2019
Today, on the tenth anniversary of Cougar Flight 491, we offer our deepest sympathies to the families and friends of those who lost their lives that day.#GovNL pic.twitter.com/qBsAThGP7t

— Natural Resources NL (@NR_GovNL) March 12, 2019
Today we remember the tragic event that impacted our province ten years ago on Flight 491. The families of those we lost are in our thoughts, and they will forever be in our hearts. pic.twitter.com/bcPfGyHrgE

— Royal Newfoundland Constabulary (@RNC_PoliceNL) March 12, 2019
Bill & Carolyn – Ten years ago today, Cougar Flight 491 took off to carry a crew to a three-week stint on the SeaRose offshore oil platform.

The helicopter crashed into the North Atlantic, killing 17 of the 18 people on board.

Prayers are with their families this morning. pic.twitter.com/WNanfTB9kZ

— Coast 101.1 (@coast1011) March 12, 2019
Today marks 10 years since we lost Cougar Flight 491 and 17 of the people onboard. March 12, 2009 and the days that followed forever changed the families of those lost and all of us at Husky. We will always remember them. pic.twitter.com/ZTQuYAg01i

— Husky Energy (@HuskyEnergy) March 12, 2019
Ten years.

Ten years ago they were commuting to work on Cougar Flight 491.

But when you work on the sea, nothing is easy, and nothing can be taken for granted.

Today we mourn with the family and friends of those lost. May we never forget. pic.twitter.com/nhkmyrkGAD

— Seamus O'Regan (@SeamusORegan) March 12, 2019
Offshore Energy Today Staff
Related news
List of related news articles