Aiming to unlock more hydrocarbon resources, Petronas inks production sharing contract with Ping Petroleum
Malaysia's state-owned energy giant Petronas has signed a late life asset (LLA) production sharing contract (PSC) with Ping Petroleum, a subsidiary of Dagang NeXchange Berhad, for a cluster of three developed fields offshore Peninsular Malaysia.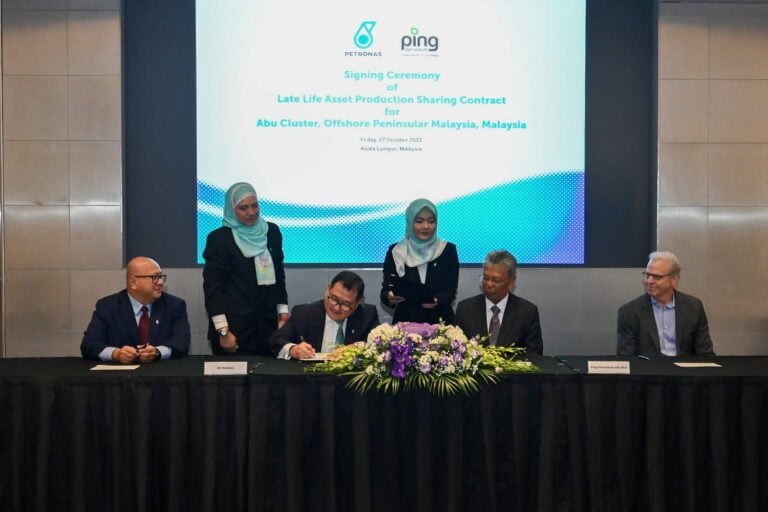 Senior Vice President of Malaysia Petroleum Management (MPM) signed the PSC on behalf of Petronas while Ping Petroleum was represented by its Managing Director, Zainal Abidin Abdul Jalil. This is expected to maximize the hydrocarbon recovery from the Abu Cluster, which is made up of three developed fields – Abu, Abu Kecil, and Abu SW Upthrown – with the remaining reserves of five million stock tank barrels. As the custodian of the national hydrocarbon resources, Petronas, through MPM, manages petroleum arrangements in Malaysia and provides stewardship on upstream petroleum activities.
Mohamed Firouz, Senior Vice President of MPM, commented: "With this award, Petronas is looking forward for Ping Petroleum to maximize the recovery from the Abu field, which registered a peak production of 15,000 barrels per day back in 2008. Furthermore, with the implementation of enhanced commercial terms for LLA streamlined operational procedures, we are empowering the operator to apply their capabilities to monetize the Abu Kecil and Abu SW Upthrown fields.
"The latent potential in Abu field plus the upsides in the other two fields are expected to provide an equitable return to both host authority and investor, especially in funding the abandonment requirements of existing facilities."
Petronas says it is committed to unlocking the full potential of Malaysia's hydrocarbon resources, maximizing value for its partners and the company, guided by the 'Right Asset, Right Player' strategy and supported by – what it deems to be – a progressive fiscal framework.
In addition, the company is balancing its ongoing efforts of ensuring energy security domestically and globally, while addressing the energy transition by building a more sustainable upstream industry. To this end, the firm signed a memorandum of cooperation (MOC) in October 2023 with the Japan Organization for Metals and Energy Security (JOGMEC), and the Ministry of Economy, Trade and Industry (METI) on the cross-border CO2 transportation and storage.
According to Ping Petroleum, the ten-year PSC, which was disclosed on October 30, 2023, grants its subsidiary, PPSB, the right to develop and produce the petroleum and gas resources from the three fields within the Abu Cluster, which is located approximately 250 km from the east coast of Peninsular Malaysia. This follows the signing of two PSCs with Petronas in January 2023 for discovered oil and gas resources in Malaysia.
Tan Sri Syed Zainal Abidin Syed Mohamed Tahir, Executive Chairman of DNeX, remarked: "We are committed to contributing to Malaysia's domestic energy supply, pursuing opportunities through our reinforced partnership with Petronas and building our portfolio of strategic production assets in fiscally transparent jurisdictions.
"We thank Petronas for giving us another opportunity to benefit from the MBR 2022 and look forward to working with Petronas through the development, production and abandonment of the asset. This contract will further strengthen our track record in operating low-cost producing assets and allows us to diversify our revenue stream across multiple geographies."