Bahamas Petroleum awarded block offshore Uruguay
London-listed oil company Bahamas Petroleum (BPC) has been awarded the AREA OFF-1 petroleum licence offshore Uruguay.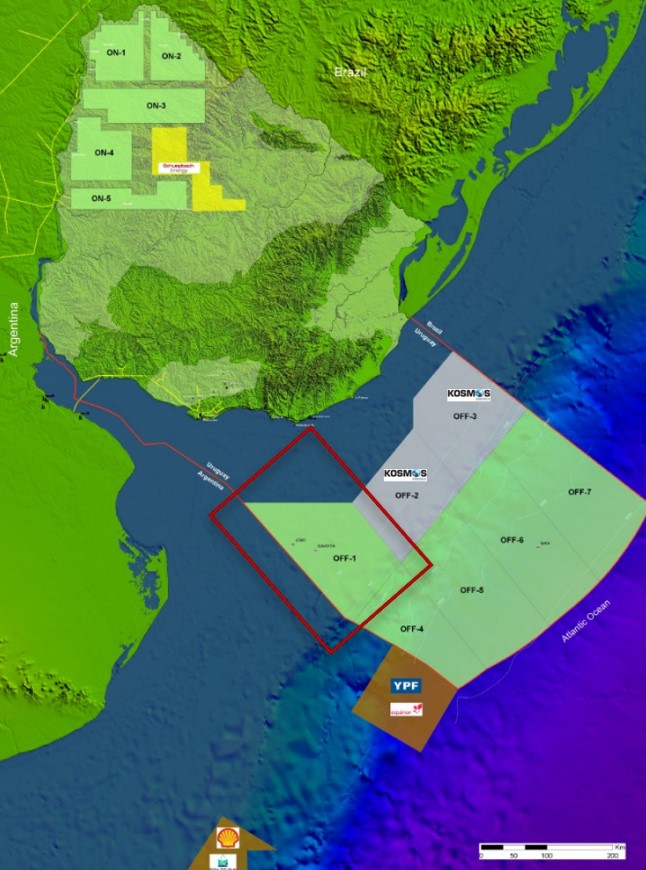 BPC said on Tuesday that it was chosen as the successful applicant for the award of an exploration licence offshore Uruguay by the Uruguayan national regulatory agency, ANCAP.
This follows a period in which BPC's technical and operational credentials were first evaluated by ANCAP and BPC was approved as a qualified offshore operator and thereafter submitted an application for the AREA OFF-1 block.
The OFF-1 licence provides for an initial four-year exploration period, during which time the company will reprocess approximately 2,000 kilometres of legacy 2D seismic and undertake several new geotechnical studies.
The company expects that the cost of the work program in the initial period will consist of around $200,000 per annum. This covers historic seismic data acquisition and reprocessing, G&G studies, and other technical work. Most of the work will be covered by BPC's staff currently working in The Bahamas.
There are no other annual licence fee payments, and no drilling is required in the initial four-year period, with extension into a second exploration period entirely at BPC's election.
OFF-1 and BPC's licences in The Bahamas share similarities. Both are in similar water depths, contain multiple lower exploration risk structural plays in addition to the high impact fans, and both have material volume scope and extensive running room.
Uruguay's AREA OFF-1 licence
The licence has a total area of around 15,000 square kilometres, situated in water depths from 20 to 1,000 metres, around 100 kilometres off the Uruguayan coast.
Prior legacy activity on and adjacent to the block comprises historical 2D seismic – some 12,000 line-kilometres acquired from the early 1970s to 2015.
However, only two historic wells have been drilled to-date in the area – in 1976 by Chevron – with no 3D coverage. Current mapping reveals a diversity of exploration plays and leads in relatively shallow water and indicates an estimated resource potential of up to 1 billion barrels of oil equivalent (BBOE).
BPC's preliminary analysis suggests that any of the individually mapped current prospects are likely to be economic, even at current historically low oil prices.
According to Bahamas Petroleum, the OFF-1 exploration play is technically similar to the prolific Guyana-Suriname basin currently being explored by multiple oil companies, as well as the Cretaceous turbidite plays offshore north-eastern South America.
An active region
There has been considerable licencing activity proximate to OFF-1 in recent years. During 2019, oil majors Shell, BP, Total, and Equinor bid for and were awarded various licences offshore Argentina, adjacent to this one.
The primary targets in those licences are likely to be the same Cretaceous plays potentially present in OFF-1.
More recently, Kosmos Energy was awarded two adjacent Uruguayan offshore blocks to OFF-1 in December 2019.
Bahamas drilling on schedule
BPC also said on Tuesday that it was fully on-track for exploration drilling in The Bahamas, with its Perseverance #1 well expected to be spud in late 2020 or early 2021, and targeting recoverable P50 oil resources 0.77 billion barrels, with an upside of 1.44 billion barrels.
The company believes a successful exploration well in The Bahamas will unlock the broader multi-billion potential of the petroleum resources across the licences held in that country and position the project in The Bahamas for the next stage of appraisal and development.
BPC claimed that the transformative value of the project would be maximised by introducing a long-term partner via a farm-in.
"A partnership with a large multinational oil company will offer considerable benefits when it comes to taking the project forward once the initial exploration well is completed.
"In this context, the company has for some time been seeking to secure a new project – or series of projects – to provide scope for a future growth trajectory once the project in The Bahamas moves beyond the exploration phase and the company itself moves into the next phase of its life", BPC stated
Such a project would have to be low-cost, early-stage, and complementary to current BPC assets in The Bahamas. BPC said that the OFF-1 meets these requirements.
Industry woes provided opportunity
Regarding the award of the licence, Simon Potter, CEO of Bahamas Petroleum, said: "The scale of the opportunity that our planned drilling campaign in The Bahamas may unlock for us, at the end of 2020, means that our personnel are and will remain entirely focussed on their efforts to deliver the Perseverance #1 exploration well successfully.
"The recently-closed Open Licencing round in Uruguay presented […] an opportunity for us where, for very low cost, we have been able to secure an exploration licence of an extremely high-calibre that, even as recently as a few months ago, we most likely would have been outbid on by much larger players.
"We are especially pleased to have been awarded OFF-1 given that the licence represents a similarly underappreciated opportunity to that secured by the Company in 2007 in The Bahamas – a licence in a region with extensive existing seismic of various vintages, but largely underexplored […].
"[…] in the longer-term we can create an opportunity of equal value and industry interest to what we have thus far accomplished in The Bahamas".