Bassoe: Ocean Rig setting up for a new play in the harsh environment semi-sub market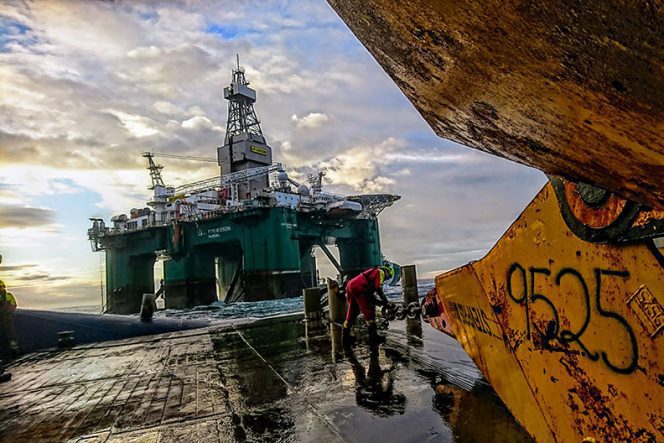 By: David Carter Shinn
May 28, 2018
---
There's probably much more behind Ocean Rig's recent spinoff of the Leiv Eiriksson and Eirik Raude than they're telling us.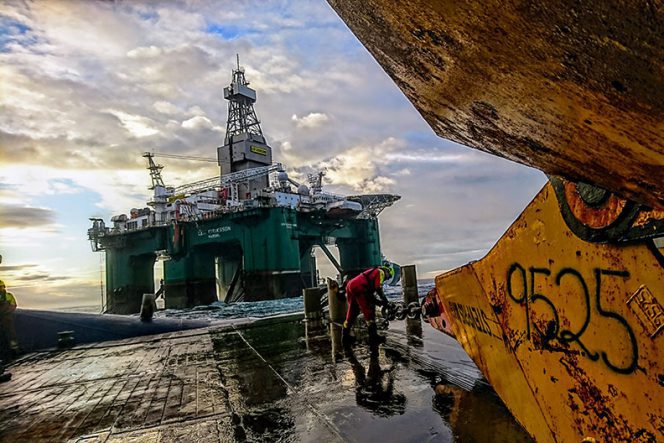 Ocean Rig announced today that they're selling their two harsh environment semisubs, Leiv Eiriksson and Eirik Raude, to a subsidiary called Valiant Offshore. According to the deal, Ocean Rig will receive $110 million from investors in Valiant and hold 57.8% of the company upon closing of the transaction.
In other words, they've sold 42.2% of the subsidiary (which only includes the two semisubs) for $110 million. This values Valiant Offshore at $261 million.
Ocean Rig also said that they expect to use the $110 million in proceeds to reactivate the Eirik Raude. The rig has been cold stacked in Greece for over two years and was considered a scrap candidate until the recent resurgence of harsh environment rig demand in the North Sea.
Using their strengths and breaking free
Ocean Rig went through a major restructuring process last year when creditors exchanged $3.7 billion in debt for new equity.
Now, Ocean Rig has limited ability to grow. They've got 13 ultra deepwater drillships out of which only two are drilling (nine are stacked, and two are under construction). With all that drillship baggage and ex-creditor owners who aren't likely providers of additional equity funding, it's nearly impossible for them to raise accretive money (even at their restructured asset book values).
But unlike pure-play drillship owners, Ocean Rig has, with their two harsh environment semisubs, a way into one of the hottest offshore drilling markets in the world right now: Norway.
By putting the semi-subs into a new company, Valiant Offshore suddenly becomes a two-rig owner which can develop independently of Ocean Rig's drillship fleet.
The Leiv Eiriksson, a Bingo 9000 from 2001, is drilling for Lundin in the Barents Sea (which is the place to be right now), and the company just announced a new 90-day contract with ConocoPhillips under a three-year Master Service Agreement. Even though the rig is nearing 20-years of age, it's got a long operational history and is one of the best "mature" rigs of its type.
The Eirik Raude, on the other hand, which is one year younger than the Leiv Eiriksson, is of the same design but has been virtually neglected since it last worked in the Falkland Islands in 2016. Reactivation programs on high-specification floating rigs are always risky, but with $110 million to work with, the rig should be able to return to operations during the 18-month timeframe the company has indicated.
What just happened here?
First, let's establish the values of the two rigs in question.
Bassoe Analytics' Rig Valuation Tool (RVT), gives a value range of $160–176 million for the Leiv Eiriksson. The Eirik Raude gets a range of $29–38 million, but Ocean Rig has committed to reactivating the rig, and assuming it's reactivated to operate in Norway, we'll say that its value will end up at the same level as the Leiv Eiriksson.
So Valiant pays $110 million for 42% of two rigs which should have a combined value of $336 million ($168 times two) compared to the $261 million implied by the transaction. That's gives a total upside of $75 million off the bat, and if values for harsh environment semisubs keep rising, Valiant will be even more in the money on the deal.
Although it looks like Ocean Rig sold out of their best (or highest-potential) assets for less than their potential value, they only have one of the two rigs working right now and don't have funding to get both in operation. This deal lets them do that.
It's also possible that Ocean Rig could spend less than $110 million reactivating the Eirik Raude.
And with Valiant, Ocean Rig can continue to grow their semisub fleet. We wouldn't be surprised to see a newbuild order from them at some point.
For the rest of the market, this isn't a great deal. A harsh environment semisub that had been considered non-competitive will hit the market again over the next 18 months, and an owner (or partial owner in this case) who was previously unlikely to order rigs could start adding supply.
This seemingly boring quasi-intercompany deal, subtly announced on a bank holiday in the US and UK, shouldn't be ignored.
---
Offshore Energy Today has shared the article above with permission from the author. You can read the original post at Bassoe.no
The views and opinions expressed in this article are those of the author and do not necessarily reflect the official policy or position of Offshore Energy Today.
---
Related: