BP to begin Ironbark drilling in late October
Australia's National Offshore Petroleum Safety and Environmental Management Authority (NOPSEMA) has provided final approvals to BP for drilling of the Ironbark-1 well.
Cue Energy, one of the partners in the WA-359-P permit where Ironbark is located, said that BP – as the operator of the permit – was making final preparations for the handover of the Ocean Apex drilling rig, set to occur in October.
According to the company, the Well Operations Management Plan and the Safety Case for the Ocean Apex drilling rig were the final regulatory documents required to be approved by NOPSEMA. Both of these documents have now been approved.
Mobilisation of the Ocean Apex drilling rig for the Ironbark-1 well is expected to start mid-October, with drilling expected to begin by the end of October.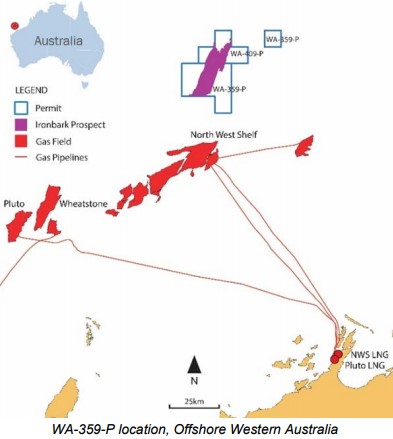 Exploration permit WA-359-P is located in the Carnarvon Basin, offshore Western Australia, some 50 kilometres from the existing North West Shelf LNG infrastructure.
The Ironbark-1 well is expected to drill to approximately 5,500 metres and will be the first test of the Ironbark gas prospect.
Cue also stated that it was fully funded for its expected participating interest costs of the well through funding from farm-in agreements with partners BP, Beach Energy, and New Zealand Oil & Gas and some $8 million of cash reserves which have been escrowed.
The WA-359-P joint venture operator is BP which holds a 42.5 per cent interest the other three partners – Cue Energy, Beach Energy, and New Zealand Oil & Gas – hold 21.5, 21, and 15 per cent respectively.
There are some worthy reminders regarding this project. Namely, BP picked the Ocean Apex for drilling of Ironbark back in February 2019. Drilling was set for late 2020 and the rig was a perfect choice since it had prior engagements.
From early May 2019 until late July 2019, the rig worked for Woodside. Then, it worked for Shell on a one-well contract. After that, Ocean Apex returned to work for Woodside from early January 2020 until late September 2020.
BP's environment plan for the Ironbark-1 exploration well was approved by NOPSEMA in July 2020 and, just last month, the oil major chartered three Solstad Offshore's vessels to support the company's Ironbark drilling campaign.
More precisely, BP awarded contracts for two anchor handling tug and supply vessels – the Normand Saracen and Far Senator – and the Normand Leader platform supplier.
Related news
List of related news articles