Canada's Cedar LNG postpones final investment decision to Q4 2023
Cedar LNG, a partnership between the Haisla Nation and Canadian energy infrastructure company Pembina Pipeline, has pushed the final investment decision (FID) to the fourth quarter of 2023 due to the second front-end engineering design (FEED) process for the floating LNG vessel.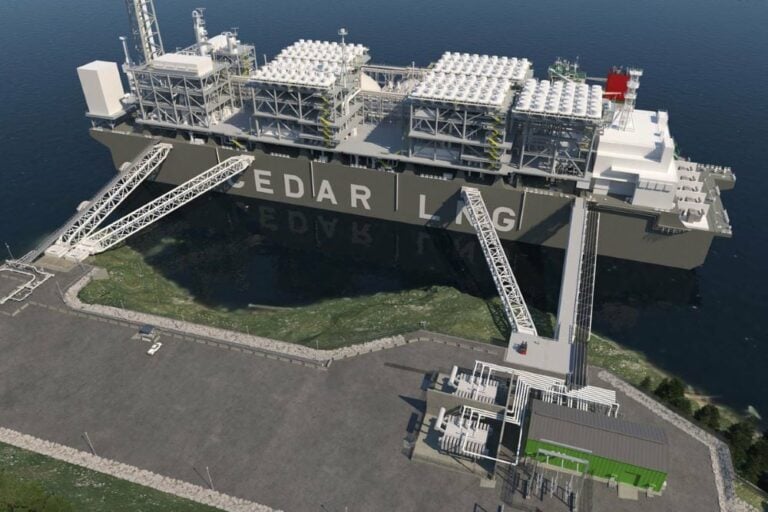 Prior to this, FID for Canada's first Indigenous majority-owned LNG facility was anticipated in the third quarter of 2023. However, Cedar LNG recently shared updates on the project and announced its decision to delay FID.
"Cedar LNG elected to progress a second front-end engineering design (FEED) process for the floating LNG vessel in late 2022 and has been waiting for that work to progress to the same stage as the original FEED. In conjunction with detailed commercial discussions and ongoing negotiations between LNG Canada and Coastal GasLink, this has resulted in the anticipated final investment decision being revised to the fourth quarter of 2023", it stated.
In the meantime, the project received its LNG Facility Permit from the BC Energy Regulator on 6 July. This permit follows the receipt of the Environmental Assessment Certificate from the B.C. Environmental Assessment Office, a positive Decision Statement from the federal Minister of Environment and Climate Change, and a pipeline permit for the Cedar LNG Pipeline connection to the Coastal GasLink Pipeline.
Cedar LNG noted that, collectively, these reflect the key permitting milestones for the project.
In addition to the previously disclosed Memorandum of Understanding (MoU) with ARC Resources Limited, Cedar LNG has signed incremental non-binding MoUs with investment-grade counterparties for long-term liquefaction services and is fully subscribed in relation to the project's total capacity. Work towards the signing of definitive commercial agreements is ongoing.
The floating LNG facility is to be located on Haisla Nation-owned land in Kitimat, B.C., with the capacity to export three million tonnes per year of LNG.
Cedar LNG incorporates several design decisions made to minimise the project's environmental footprint and ensure it is one of the lowest-emitting LNG facilities in the world. According to developers, one of the most important decisions was to power the facility with renewable electricity from BC Hydro.
Follow Offshore Energy's Clean Fuel: