Cedigaz: Europe's LNG imports slide in first half of 2018
European net LNG imports in the first half of 2018 did not sustain the growth momentum which was seen in 2017 as total LNG net imports fell by 5 percent or 1.21 million tons year-on-year 21.2 million tons.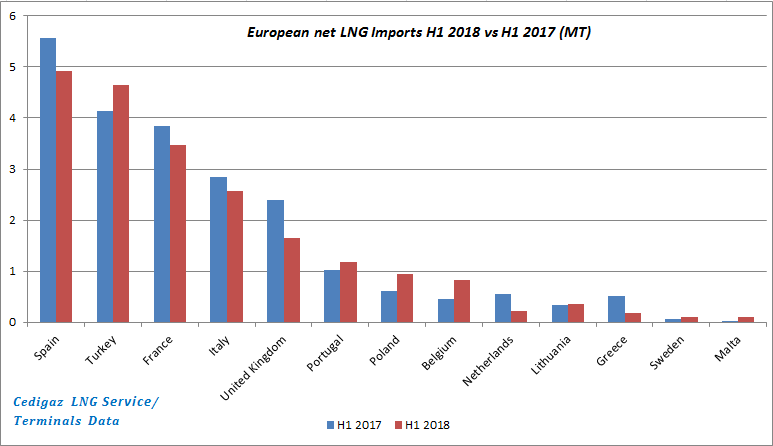 This trend was mainly the result of higher re-exports, which went up 1.1 mt YoY, and strong declines in net LNG imports in Spain, the UK and France, according to a report by the French international association for gas, Cedigaz.
In Southern Europe, net LNG imports were down 8.7 percent to 12.1 mt, as imports in France, Spain and Italy declined. LNG imports in Spain declined by 12 percent (-0.65 mt), counterbalanced by pipeline imports from Algeria which grew 18 percent compared to last year. Spanish LNG imports from Peru were down by 0.88 MT and this was partially offset by increased purchases from Trinidad and Tobago (+0.67 mt).
In France, re-exported volumes surged by 0.72 mt YoY, resulting in a 10 percent decline (-0.4 mt) in net LNG imports. The re-exported cargoes from France landed mainly in Asia (China, South Korea, India) and the Middle East (Kuwait). In Italy, LNG imports were down by 10 percent (-0.28 mt) as the power sector gas demand weakened in the first half 2018, while hydroelectric power generation increased.
"Portugal was the only Southern European country where LNG imports were up, albeit marginally (+ 0.15 mt)," Cedigaz noted in the report.
In Northwest Europe, net LNG imports were down 19 percent to 2.82 mt as net imports in the UK and the Netherlands decreased by 0.74 mt and 0.33 mt.
In the UK, imports from Qatar were down substantially (-1.4 mt) as many cargoes from Qatar were diverted into the premium Asian market. China, which continued to lead Asian LNG demand growth, increased imports from Qatar by 39 percent. As LNG imports declined, the UK imported more natural gas via the Interconnector as domestic demand increased in the first months of the year, driven by heating needs, according to Cedigaz.
LNG imports in the Netherlands were down on account of higher re-exports (+0.3 mt). The re-exported cargoes from the Netherlands went to Japan, South Korea, India and Pakistan.
In South Eastern Europe, net LNG imports were down 4 percent (- 0.2 mt YoY) as LNG imports in Greece fell 0.32 mt. This decline was offset by an increase in pipeline imports from Russia. Inversely, net LNG imports in Turkey were up by 12 percent (0.5 mt) to reach 4.65 mt in the first half 2018 as the power sector gas demand increased by 8 percent. Additionally, pipeline gas imports in Turkey were down 2 percent in the first four months of 2018 which might have influenced the evolution of LNG imports.
In central Europe, Poland increased net LNG imports in the first half of 2018 by 0.33 mt to 0.95 mt as supply from Qatar increased following a supplementary deal signed with Qatargas in 2017, which came into effect in 2018, Cedigaz said.
Top LNG suppliers unchanged
The top three LNG suppliers to Europe remained unchanged from last year, namely Qatar, Nigeria and Algeria, Cedigaz said.
However, their combined export volumes dropped 6 percent (-1 mt YoY). Russia emerged as a new LNG supplier in Europe as the Yamal LNG project started operations in December 2017. There was a significant decline (-1 mt YoY) in LNG deliveries from Peru, which was nearly offset by a gain from Trinidad & Tobago. US LNG exports to Europe plummeted by 0.5 mt as the US exported most (62 percent) of its LNG to Asia where US exports went up by nearly 3 mt, the report shows.
Re-exports which were nearly dormant last year have picked up in the first half of 2018 as higher LNG prices have created arbitrage opportunities for European Importers, which re-exported mainly to the Asian region. European LNG demand for the second half of this year will depend on a number of factors, including but not limited to, power sector gas demand, the weather, energy prices and competitiveness of LNG versus pipeline imports.