Start of decommissioned North Sea platform's new lease on life as 'one of the UK's largest public art installations'
A decommissioned North Sea platform, which is part of a project called SEE MONSTER being brought to life by NEWSUBSTANCE Collective as a large-scale public art installation, is on its way to its destination at Weston's seafront Tropicana site to be reimagined into what is described as the world's first and only repurposed offshore platform.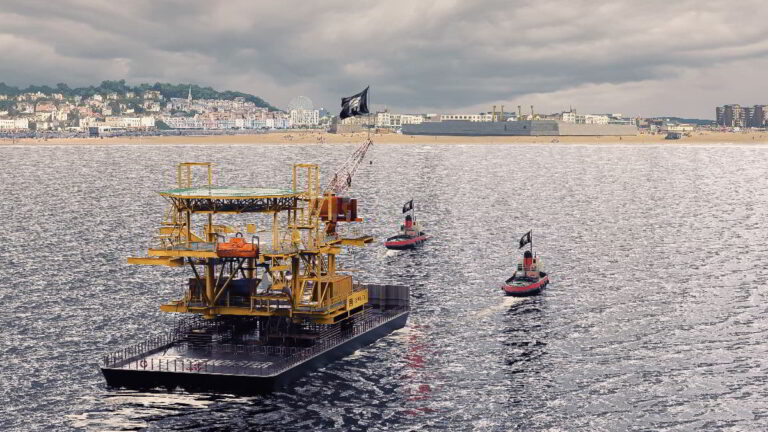 Back in October 2021, it was revealed that the town of Weston-super-Mare was selected as one of ten locations across the country to host the flagship, national arts and culture installation. The North Somerset Council stated at the time that SEE MONSTER would rehabilitate a former North Sea offshore platform and transform the retired industrial structure into a large-scale public art installation.
The work involved in repurposing the offshore platform into art was expected to take approximately two months and start in the spring of 2022. However, while the arrival of SEE MONSTER to Weston-super-Mare's seafront was originally planned for July, based on an update in mid-June 2022, the arrival date was moved and thus, it was anticipated to be later in the summer.
In an update on Friday, it was disclosed that SEE MONSTER would arrive by sea at Weston-super-Mare on Tuesday, 12 July 2022. The 450-tonne platform will be transported on a flatbed barge as large as a football pitch to its new home at the Tropicana and lifted by crane over the seawall onto pre-constructed legs. Upon completion, the entire construction is expected to be 35 metres tall at its highest point.
Patrick O'Mahony, Creative Director and Founder of NEWSUBSTANCE, remarked: "This world-first project is a truly challenging and ambitious feat of design and engineering. From our creative collaborators to North Somerset and Weston Town Councils, and from local communities and businesses to the energy and environment industry, we are immensely grateful to those who have supported us in bringing this once-in-a-lifetime educational and creative experience to Weston-super-Mare."
According to NEWSUBSTANCE, visitors and residents to Weston-super-Mare will witness the transformation of SEE MONSTER – commissioned as part of UNBOXED: Creativity in the UK – as construction takes place over the coming weeks.
NEWSUBSTANCE describes the transformation of this decommissioned North Sea offshore platform as a "world-first that is set to become one of the UK's largest public art installations." The aim of this project is to inspire global conversations about the repurposing of large industrial structures and design-led solutions to sustainable futures. Following completion, visitors will be able to experience SEE MONSTER from the seafront, beach and on board.
Martin Green, Chief Creative Officer, UNBOXED: Creativity in the UK, commented: "The transformation of a decommissioned platform into one of the UK's most ambitious public art installations is an unprecedented undertaking and will offer a blueprint for the reuse of industrial structures that everyone involved should be proud of."
This project will feature four publicly-accessible levels animated by a 10-metre-high waterfall; a 6,000-piece kinetic installation forming the "monster's shimmering scales;" an onboard oasis of grasses, plants and trees selected to thrive in a seaside micro-climate; and a seated amphitheatre and broadcast studio, forming a platform for conversations about reuse and sustainable futures.
Furthermore, a phased opening at the Tropicana is scheduled to start over the August bank holiday in England, Northern Ireland, and Wales.
"From experiments in renewable energy generation to the reuse of major industrial structures, SEE MONSTER will be a platform for conversations about our future," concluded O'Mahony.