Egypt's minister talks gas development with Engie's LNG CEO
Egypt's minister of petroleum Tareq el Molla held talks with the Engie's Global LNG CEO, Philip Olivier.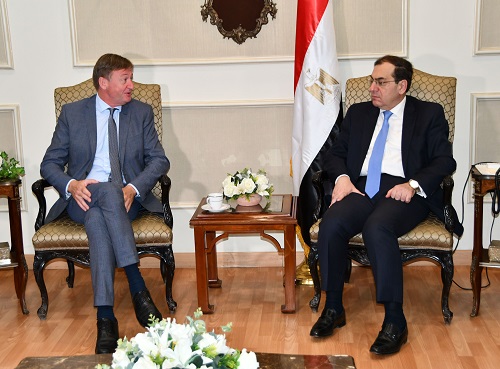 The two leaders discussed the recent development that has transformed Egypt into a regional energy center.
Olivier reviewed the company's involvement in Egypt's gas industry as it gears towards halting the imports of liquefied natural gas (LNG) as the domestic production rises.
He noted the recent developments have spurred major players to invest in Egypt.
The rising production at newly discovered gas fields has pushed the country towards halting LNG imports sooner than it was initially anticipated.
One of the fields that has recently started production is the giant Eni-operated Zohr gas field in the Shorouk Block, offshore Egypt approximately 190 km north of Port Said.
It is the largest gas discovery ever made in Egypt and in the Mediterranean Sea, and will be able to satisfy a part of Egypt's natural gas demand for decades to come, according to Italian energy giant Eni.
In May, Eni has brought up the third production unit (T-2) at the Zohr gas field increasing the installed capacity to 1.2 bcfd.
LNG World News Staff