EWC edges forward with its red-tape hampered LNG projects
---
Energy World Corporation, the company developing LNG projects in Indonesia and the Philippines, has secured production sharing contract extension for the Sengkang gas field. 
Indonesia's energy regulator SKK Migas has granted a 20-year extension to the Sengkang gas field PSC to EWC's unit Energy Equity Epic Sengkang.
EWC informed in its statement that the PSC extension starts from October 2022, with the company pledging for a five-year commitment of $88 million.
Brian Allen, executive director of EWC said the company is set to finalize arrangements with local venture partners over the coming months.
"We will continue to operate the Sengkang gas field and power plant under the existing contract, and with the extension in place, we will be in position to commence discussions on other contracts for the monetization of this gas field beyond 2022, together with providing increased reserves for our LNG facility," Allen said.
The company is still in discussions with PLN over an offtake agreement for LNG sales from the Sengkang LNG facility, which had been delayed due to volatile LNG prices, EWC said.
Construction of the LNG terminal is 80 percent complete and the construction continues 'at a modest pace', EWC said in its annual general meeting, adding that it is waiting on a number of agreements to finalize before proceeding to complete the project.
In addition to the PSC extension in Indonesia, the company has been awarded certification that its 650 MW combined cycle power plant at its Pagbilao LNG hub terminal in Quezon Province in the Philippines, is an energy project of national significance.
This certification will provide the project with certain provisions that will cut the risk of red-tape further delaying the progress of the project.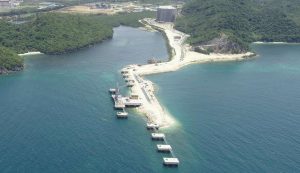 With the certification, the power plant is recognized as the anchor off-taker of the LNG project which consists of two 130,000-cbm LNG tanks, a dedicated jetty and marine infrastructure as well as regasification and other ancillary facilities.
EWC's executive director Graham Elliot said the award is a step towards the commercialization of the project.
The company's CEO and managing director Stewart Elliot noted that the certification is in line with the concerns of president Duterte that many energy projects have been held up by issues beyond developer's control.
The Pagbilao LNG hub reached 92 percent completion in May this year and further progress has stalled ever since.
Despite delays that hampered the project's progress, EWC expects the facility to start commercial operations in 2019.
Related news
List of related news articles