FSO Golden Star takes in first condensate from Vietnamese project
Malaysia Vietnam Offshore Terminal's (MVOT) FSO Golden Star has received first condensate at the Sao Vang and Dai Nguyet (SVDN) project offshore Vietnam.
MISC Berhad, a 51 per cent owner of the MVOT joint venture, said that the FSO received first condensate on 16 November 2020. The remaining 49 per cent stake in the JV is held by the PetroVietnam Technical Services Corporation (PTSC).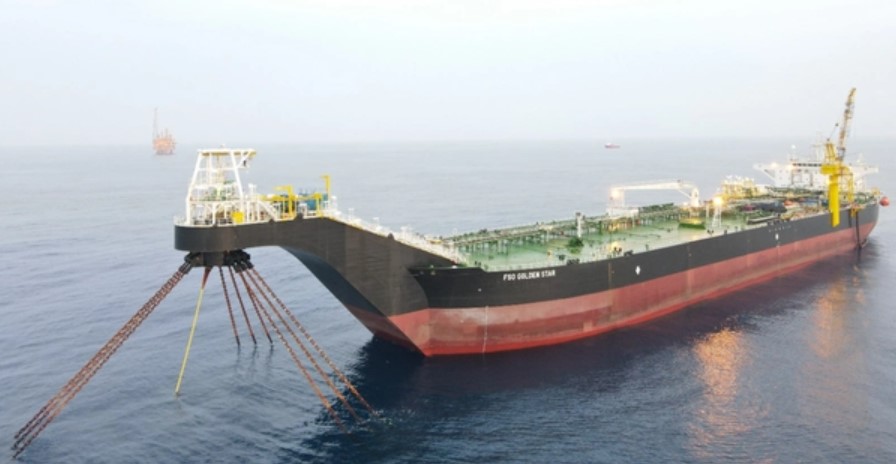 FSO Golden Star, with a storage capacity of about 700,000 barrels of condensate, was successfully converted and sailed away from Malaysia Marine and Heavy Engineering's West Yard on 10 September 2020.
The vessel was deployed on the Idemitsu-operated SVDN project in Blocks 05-1b and 05-1c offshore Vietnam.
MISC's president and group CEO Yee Yang Chien said: "Congratulations to FSO Golden Star for achieving this landmark condensate amidst the challenging and unprecedented global pandemic. I would like to take this opportunity to thank our client – Idemitsu Gas Production Vietnam for their trust and confidence placed on our team at MVOT.
"Our sincere appreciation to our joint venture partner – PTSC for the successful collaboration and commitment to deliver the best to our client.
"To all the project teams and subcontractors, well done and thank you for your dedication and commitment in prioritizing safety throughout the entire project leading to FSO Golden Star's successful sail away and first condensate.
"This milestone achievement marks another success for MISC in further expanding the group's presence in Vietnam and strengthening its footprint as one of the leading players in providing floating offshore solutions in South East Asia".
It is worth noting that the FSO Golden Star is MISC's second floating asset that operates in Vietnam waters together with FPSO Ruby II.
Being converted from the donor vessel YASA Golden Horn, FSO Golden Star is designed to remain in continuous service at the field for a minimum of seven years without dry-docking.