Gazprom Neft finds new oil field in Sea of Ohotsk
Russia's Gazprom Neft has found a new oil field in the Sea of Okhotsk near Sakhalin Island in the Russian Far East.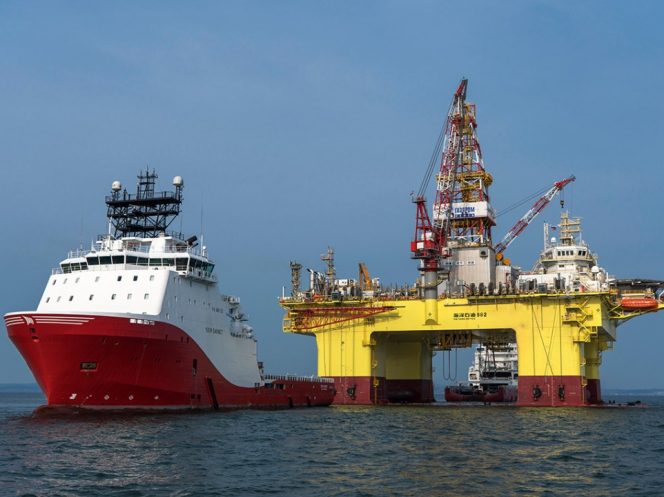 The company has informed it has recently completed its drilling and testing of a prospecting and appraisal well in the Bautinsky formation at the Ayashsky license block  in the Sea of Okhotsk, resulting in the discovery of a hydrocarbon field with reserves in place estimated at more than 137 million tonnes of oil equivalent (mtoe).
The new field has been named the "Triton" field in honor of the mythological Greek god of the sea, son of Neptune, Gazprom said. Gazprom used the Hai Yang Shi You 982 semi-submersible drilling rig for the operation. The rig was built at the Dalian Shipyard in China and can drill in water depths up to 5,000 feet. It was delivered in 2018 and is a sister rig of the COSLProspector.
The Ayashsky license block in the Sea of Okhotsk is located 55 kilometers offshore from Sakhalin Island, in the northeast of the island's continental shelf, where sea depths can reach up to 90 meters. Some 2,150 square kilometers of 3D seismic investigations have previously been undertaken at the block.
Gazprom Neft said the decision to drill at the Bautinsky formation had been taken on the basis of extensive geological research of the area, analysis of 3D seismic data, and successful drilling at the Ayashsky licence block, where the Neptune field — one of the largest Sakhalin offshore fields, with 415 million C1+C2 reserves — was discovered in 2017.
Gazprom Neft CEO Alexander Dyukov commented: "We have now discovered what is already, the second oil field at the Ayashsky licence block since 2017. This means we can now talk about developing an offshore Sakhalin oil-production cluster and making the Russian Far East a new strategic region on Gazprom Neft's asset map. Developing the Neptune and Triton oil fields will open up major new opportunities for developing the island's infrastructure, and for promoting the Sakhalin Oblast's wider social and economic development. We are continuing the study and development of all offshore license blocks in our portfolio."
Related news
List of related news articles