Global Petroleum finds silver lining in Tullow's dry well
Global Petroleum Limited, an oil company focused on exploration in Namibia, is not discouraged by the recent dry well drilled by Tullow near Global's assets. In fact, Global is encouraged by the result, as the well showed traces of hydrocarbons.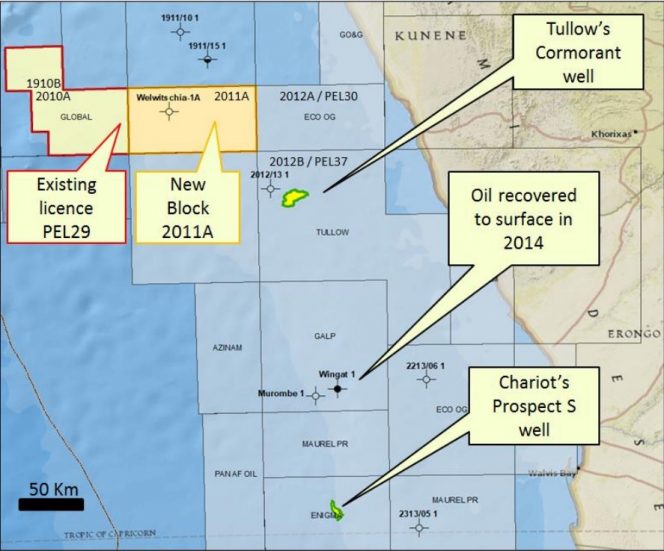 Commenting on Tuesday, Global Petroleum noted the Tullow drilling result, and said it was encouraged by the fact that Tullow had said it had encountered traces of hydrocarbons at the well.
"Although the Cormorant well was plugged and abandoned as non-commercial, Global is encouraged that the Operator stated that hydrocarbons were encountered. Tullow noted that wet gas signatures, indicative of oil, were evident in the overlying shale to the Albian sandstones target," Global said.
Based on the above, Global has inferred that "the failure to encounter hydrocarbons in commercial quantities was due to factors which are specific to the Cormorant stratigraphic prospect."
Accordingly, the company added, Global believes the well result does not impact the prospectivity of its portfolio, which contains extremely large dip-closed structures as well as some stratigraphic prospects.
Global Petroleum in September signed a Petroleum Agreement to acquire Block 2011A offshore Namibia. Global will hold an 85% interest in the new block
as operator. State oil company, Namcor, and a local private company, Aloe, will have carried interests of 10% and 5% respectively.
Block 2011A sits in the northern Walvis basin, immediately to the east of the Global's current license, PEL0029, which comprises Blocks 1910B and 2010A. The combination of the two licenses gives Global an aggregate of 11,608 square kilometers offshore northern Namibia.
All eyes on Prospect S
Commenting further on Tuesday, Global said: "Previous evidence of a functioning hydrocarbon system in the frontier Walvis Basin was from the Wingat well of 2013, which recovered oil to surface. Cormorant is 170 kilometers to the north of Wingat and proves a working source rock adjacent to Global's acreage – this is highly encouraging, especially given other indications of the presence of hydrocarbons in the Company's blocks."
Apart finding room for optimism in Cormorant hydrocarbon traces, Global is also bolstered by the speed Tullow has managed to drill the well.
Global said: "The Company particularly notes that the Cormorant well was drilled much more rapidly than prognosed, which clearly has favorable implications for future well costs in the area. The rig which drilled the Cormorant well has now moved further south to drill Chariot's Prospect S well and the results of this well will provide further data on opportunities offshore Namibia," Global said.
Chariot on Tuesday confirmed the spudding of it Prospect S well. More on that here.
Peter Hill, Global Petroleum's CEO, said: "We are very encouraged by firm evidence from drilling of a working hydrocarbon system in the area adjacent to our acreage, which we believe has positive implications for the multiple prospects in our Namibian portfolio. We are fortunate that this news has arrived so soon after we secured Block 2011A.  It has increased our confidence in the prospects for all our Blocks and we look forward to progressing their exploration."
Offshore Energy Today Staff