H-Line Shipping turns to Bangladesh for 1st green ship recycling
H-Line Shipping, a ship owner based in South Korea, has selected SN Corporation in Chittagong, Bangladesh, for its first green recycling initiative.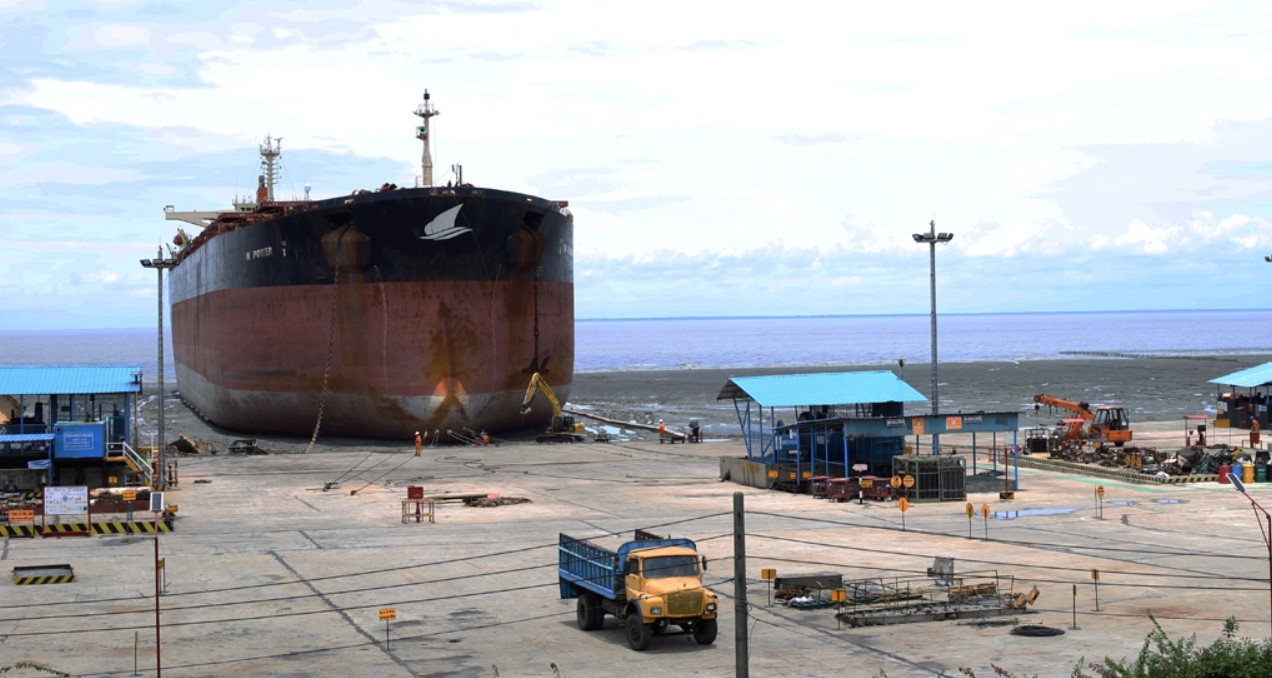 "The pioneering steps taken by H-LINE Shipping and their confidence in choosing HKC-compliant facilities in Bangladesh will undoubtedly inspire other prominent ship owners from Japan and South Korea to follow suit. As leaders in the maritime industry embrace sustainable ship recycling practices, the positive impact on the environment and the global shipping sector as a whole will be substantial," GMS, one of the world's largest buyers of ships for recycling, said.
Bangladesh recently ratified the Hong Kong International Convention for the Safe and Environmentally Sound Recycling of Ships, becoming the 21st state to do so voluntarily.
In preparation for the ratification of the convention, Bangladesh has been working on improving workplace safety and handling of hazardous materials at its shipbreaking yards with the aim of making its yards more sustainable and still attractive to customers around the globe.
Notably, the shipyards in Chittagong have recently undergone upgrades, resulting in two additional end users receiving class NK HKC accreditation, bringing the total number of accredited entities to three.
Verification by leading classification societies, including ClassNK and IRS, has resulted in Statements of Compliance (SOC) being issued for the recycling infrastructure and processes.
SN Corporation's yard offers a range of key features that enhance operational efficiency and safety. The yard's impermeable concrete floor facilitates containment and cleanup of fluids such as oil, bilge water, and chemicals, while also ensuring proper collection and disposal of rust particles, paint chips, and dust.
Efficient cutting processes are supported by crawler cranes with capacities of 100 and 150 tons, eliminating the need for manual lifting of heavy steel blocks. Magnetic cranes and pick and carry trucks further optimize steel plate movement.
Safety measures include a barge-mounted crane with a 40-ton capacity, minimizing contact with the intertidal zone and improving operational safety. The yard is equipped with 75-ton capacity winches, advanced firefighting arrangements, and a dedicated HSE team of experienced mariners.
Hazardous materials are segregated and stored separately within the yard, and an asbestos decontamination unit is utilized when needed. The yard also provides essential facilities such as a workers' canteen, drinking water, first aid measures, and adheres to International Labour Organization (ILO) standards for worker accommodation. Personal Protective Equipment (PPE) is supplied, and an in-house training facility accommodates up to 50 workers at a time, supporting continuous skill development.
Bangladesh has been actively involved in ship recycling for over five decades, with more than 40 operational recycling facilities in Chittagong alone. This industry significantly impacts employment, providing jobs for over 200,000 people. HKC-compliant yards in Chittagong have established robust infrastructure to ensure sustainable ship recycling practices.
Looking ahead, the next crucial step following these highly encouraging developments is to secure flag state approval from either the Marshall Islands or Liberia. Such approval is necessary to finally enable the implementation of the Hong Kong Convention and realize its full potential.
The treaty requires a minimum of 15 states, representing 40% of the world's merchant shipping by gross tonnage, to ratify it for it to enter into force.The approval of the Hong Kong Convention on the safe recycling of ships and offshore assets by Bangladesh holds immense significance for the global maritime industry, particularly in the realm of sustainable ship recycling.