IHS Markit to floating rig owners: Curb your enthusiasm!
Following several years of depressing market conditions, offshore rig owners have started showing optimism about the market outlook, encouraged by a recent rise in oil prices and the expectations that the oil majors must start spending more on exploration after years of underinvestment.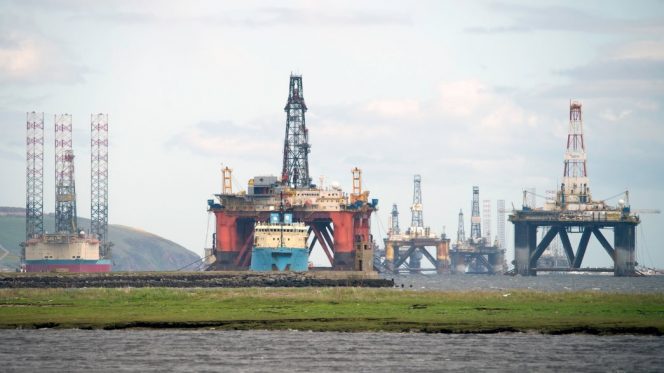 However, it's worth noting that the oil prices and underinvestment are not the only issue that hit the offshore rig dayrates. It's the drillers themselves who ordered so many rigs during the times of over $100 a barrel prices, leading to an oversupply in the market.
This is something that IHS Markit has stressed in its report this week, urging offshore rig owners to curb their enthusiasm, despite rising day rates for harsh environment floating drilling rigs and modest outlook. "Industry is still awash in rigs," IHS Markit said
"Fueled by increasing day rates and growing global demand growth for harsh environment (HE) semi-submersible offshore drilling rigs, some industry leaders are extremely bullish on future demand for these semis (also called floaters), but the market is far from achieving full utilization and growth expectations need to be tempered,"  IHS Markit said on Tuesday.
Dayrates rising but utilisation 'far from tight'
According to the IHS Markit, average new fixture day rates for all floating rigs climbed by 12 percent year-over-year through September 2018, and the average expected annual growth in global demand for the floating rigs is 7 percent through 2022, but the floater market utilization (which includes all semi-submersibles and drill ships) is far from tight at just 48 percent.
"Day-rates for HE semis increased 25 percent year-over-year based on third-quarter 2018 rates versus third-quarter 2017, while rates for all other floating rigs have only increased 3 percent during the same period, so we are seeing positive growth in the HE semis market, but we are far from a boom," said Erik Simonsen, associate director, Upstream Consulting at IHS Markit.
"There are two key points of distinction to be made relative to the market demand for these HE floaters. First, there is no shortage of HE floaters – the industry is oversupplied and global utilization for HE semis is comparable to other floating rigs – far below the 80 percent that would be considered a boom or tight market. Second, not all rigs are created equal and we are seeing significantly higher utilization and day rates for the more modern HE semis, which are much more efficient than the older HE floaters, so companies are willing to pay a premium for those more efficient rigs," Simonsen said.
More scrapping needed
Nearly all HE floaters are working in Northwest Europe, with the best units working off the coast of Norway. Without further scrapping of older, less-efficient rigs, Simonsen said the industry will stay below 70 percent floater utilization until 2022. IHS Markit estimates that approximately 25 floating rigs a year will need to be scrapped to increase utilization to a desirable rate and bring the market into balance in 2020, which also represents average attrition of floating rigs in the period 2015-2017.
"The most modern HE floaters have seen an average year-over-year growth (3Q 2017 to 3Q 2018) in day rates of 33 percent compared to increased rates of just 4 percent growth for older HE floaters, so there is a huge difference in day rates and demand, depending on the age and capability of the rig," Simonsen said.
There has been much market excitement about the first new-build floating rig order since 2014, as Awilco Drilling ordered a HE semi in February 2018. This could be both good and bad news, Simonsen said.
With just 48 percent of floating rigs under contract presently and more scrapping needed to increase floater utilization above 70 percent, it's too soon to be bullish on outlook.
"The risk is that when some contractors start to order new rigs, other contractors might stop planned scrapping of their old rigs with the thinking that, even if newer rigs are generally more efficient, there could also be demand for their older floaters. If contractors follow this approach, it would most likely delay the market upturn beyond 2022," Simonsen said.
The Brent oil price has recently dropped 30 percent to $60 per barrel and the present price is below the forecasting price in the IHS Markit Floating Rig Report. This significant oil price decline emphasizes the importance of attrition for the less-efficient rigs even though the oil price is volatile and might recover, Simonsen said.
The concept of a slow-but-steady emergence, rather than a rapid emergence from a prolonged downturn for the offshore rig industry, was echoed in the IHS Markit worldwide mobile rig forecast for 2020, issued recently to clients. In its first worldwide mobile rig forecast for 2020, IHS Markit, which relies on data from its Petrodata RigPoint database, recently estimated the average global demand for mobile offshore drilling units, comprising jack-ups and floating rigs (including HE), is expected to increase by approximately 15 percent between 2018 and 2020 as the offshore market slowly emerges from its prolonged downturn.
Demand to hit 521 units in 2020
IHS Markit expects global offshore rig demand will average 521 units in 2020, which exceeds the average of 453 units expected through 2018. These demand figures account for the entirety of 2018 through 2020, including seasonal fluctuations and regional trends.
"Much of the increase in global demand can be attributed to the price of oil being sustained at a higher level than when the downturn was in full swing," said Justin Smith, offshore rig analyst at IHS Markit and an author of the rig forecast.
"In addition, costs associated with the offshore industry have been slashed in recent years. This has led operators to reconsider exploration, appraisal, and development programs that were not economically viable while the market was bottoming-out."
While the demand for jack-ups, which work in shallow water, will improve during this period, the increase will primarily be driven by floating rigs, specifically semi-submersibles and drillships, as operators step up activity in deepwater areas around the globe, IHS Markit said.
"Despite increased oil prices in the past year and a boost in operator cash-flows, according to our IHS Markit analysis, we expect E&P spending growth to be disciplined," Simonsen said.
"We estimate a growth in CAPEX spending of about 7 percent per year through 2022 because we believe oil companies will not repeat their mistakes from the previous, painful boom-and-bust cycle. They will likely consider using their excess cashflow for paying debt or dividends, or for acquisitions to fuel growth, rather than spending all free cashflow on field developments," Simonsen said.
While not addressed in this report, information regarding tenders, contracting backlog, day rates and other offshore rig-market data also are tracked by Petrodata RigPoint .
"With just 48 percent of floating rigs under contract presently and more scrapping needed to increase floater utilization above 70 percent, it's too soon to be bullish on outlook."
Related news
List of related news articles