Inpex, Woodside, TotalEnergies to explore hub potential for 'one of the largest CCS projects in the world'
Following the award of acreage offshore Australia, Japan's oil and gas producer Inpex and its joint venture partners – Woodside Energy and TotalEnergies – will pool resources to evaluate the potential for a large-scale carbon capture and storage (CCS) site for a carbon capture, utilization and storage (CCUS) hub.

As part of the 2021 Offshore Greenhouse Gas Storage Acreage Release, the Australian government announced the award of two permits located off the Northern Territory and Western Australia for the bidding round, which closed on 10 March 2022. One of the permits was awarded to Woodside Energy for an area in the Browse Basin while the other one was given to a joint venture between Inpex, Woodside and TotalEnergies for an area in the Bonaparte Basin.
On this occasion, Madeleine King, Minister for Resources and Minister for Northern Australia, stated: "Since becoming minister I have emphasised the role the resources sector will play in Australia's transition to net zero. The International Energy Agency has made it clear that the world won't get to net-zero by 2050 without CCUS. This offshore acreage has the potential to contribute to that important goal."
Confirming the award in a statement on Wednesday, Inpex informed that its subsidiary, Inpex Browse E&P, was jointly awarded a greenhouse gas storage assessment permit for Block G-7-AP with TotalEnergies CCS Australia and Woodside, in a joint venture known as Bonaparte CCS Assessment.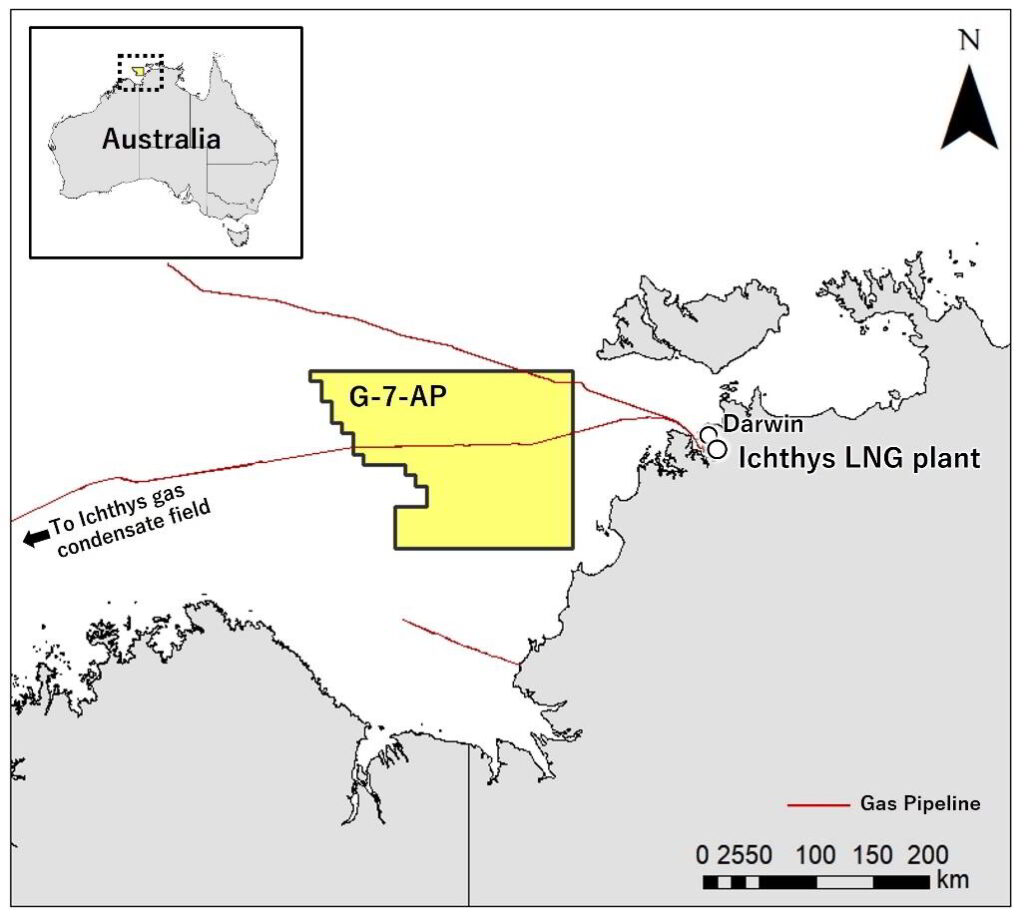 The block, which contains the acreage awarded to the Inpex-led Bonaparte CCS Assessment JV, is located in the Bonaparte Basin off the northwestern coast of the Northern Territory of Australia, an area considered to be promising for geological storage of carbon dioxide in service of CCS activities. The water depth at this site ranges between approximately 30 and 75 meters.
Hitoshi Okawa, Inpex President Director Australia, said that acquiring this permit provides "an exciting opportunity" for a large-scale carbon storage site in northern Australia, adding that "industry and government working together is a powerful enabler for responsible energy development."
The Japanese player outlines that Inpex Browse will hold a 53 per cent participating interest in the block as the operator, where it will pursue evaluation and appraisal work in cooperation with TotalEnergies and Woodside as Bonaparte CCS Assessment.
Meg O'Neill, Woodside Energy CEO, commented: "Woodside welcomes the award of the permit as an important milestone for the joint venture, as it assesses the CCS potential of the permit area. For Woodside, CCS will be an important addition to our portfolio of carbon management options, as we work towards our own aspiration of net-zero by 2050."
Furthermore, Inpex claims that Ichthys LNG would be a natural user of this CCS solution as it seeks to reduce its GHG emissions by making use of carbon capture and storage opportunities. The company highlights that this project provides an opportunity to prove a large-scale carbon storage site for the Darwin-based, CCUS hub proposed by the government of the Northern Territory with "the potential to become one of the largest CCS projects in the world."
Julien Pouget, TotalEnergies Senior Vice President Asia Pacific for Exploration & Production and Renewables, remarked: "The award of this promising greenhouse gas storage assessment permit is fully in line with our strategy to provide more energy with lower emissions and our ambition to achieve net-zero by 2050 together with society. As partner in both Ichthys LNG and Bonaparte CCS Assessment joint ventures, TotalEnergies is well positioned to contribute to a low carbon LNG production in Australia."
Inpex points out that as the operator of both Bonaparte CCS Assessment and Ichthys joint ventures, it is "ideally placed to champion CCS activities in northern Australia." The development of the low-emissions CCUS hub business case is being led by Commonwealth Scientific and Industrial Research Organisation (CSIRO) in collaboration with the Northern Territory government, Inpex and other industry participants.
This CCUS hub could allow the Northern Territory to become "a global leader in low-emissions energy exports and catalyze the growth of new sustainable industries," based on Inpex's statement. The firm believes this project will contribute to a cleaner energy future and seeks to cooperate not only with its joint venture partners but also with the governments of Australia and Japan.
Moreover, Inpex underscores that it will continue to "resolutely pursue" business development in Australia, one of its core business areas. In addition, it will also "proactively engage" in energy structure reforms towards the realisation of a net-zero carbon society by 2050. In line with this, Inpex inked a statement of commitment to a net-zero emissions future with the government of Australia's Northern Territory last month.
The company intends to pursue its net-zero by 2050 target while providing a stable supply of diverse and clean energy and responding to the energy demands of Japan and other countries around the world by making its oil and natural gas business cleaner, as outlined in its Inpex Vision @2022, formulated in February 2022.
Australia invites bids for 10 offshore areas
Meanwhile, nominations for the 2023 Offshore Petroleum Exploration Acreage Release are expected to close on Thursday, 1 September 2022. However, the Australian Minister for Resources announced on Wednesday that the 2022 Offshore Petroleum Exploration Acreage Release was open for bids.
This includes ten areas located across four – Bonaparte, Browse, Gippsland, and Northern Carnarvon – basins offshore the Northern Territory, Western Australia, the Territory of the Ashmore and Cartier Islands and Victoria. The companies can bid on these areas until Thursday, 2 March 2023.