InTER Project Hits Milestone with Marinus Platform Launch
The launch of the Marinus platform by Leask Marine marks the end of the InTER Project and the completion of the first ever tidal device to be built on Orkney.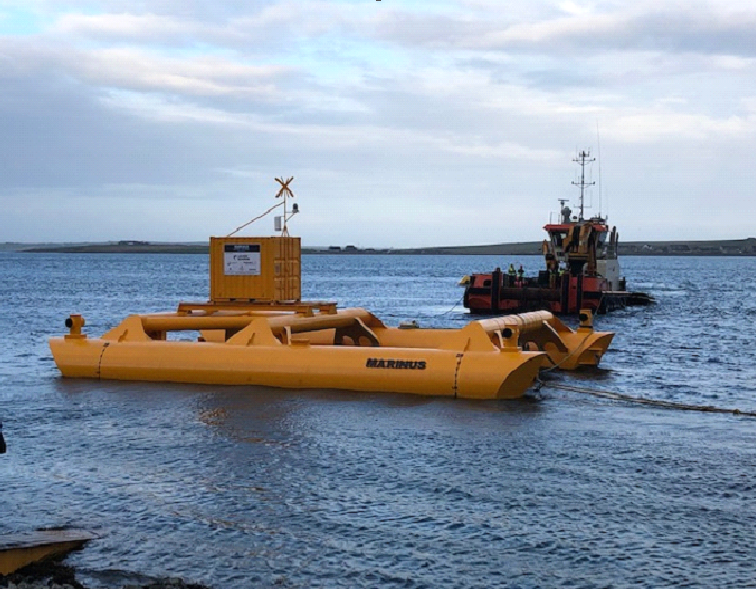 The two-year project, part-funded by Innovate UK and led by ITPEnergised, culminated with the deployment of the floating platform designed and built to support Instream Energy's tidal turbines.
Over the last two years a consortium of industry experts have been working on the design, construction and deployment of the platform which is intended to take advantage of shallow water tidal energy resources.
The consortium consisted of ITPEnergised, Instream Energy Systems, Leask Marine, Tension Technology International, Plymouth University and Goodwin Electronics.
The platform is designed to support vertical axis tidal turbines created by Canadian technology developer Instream Energy Systems and technology defence specialists BAE Systems. The project is part of Instream's technology diversification into the marine environment and builds on Instream's knowledge gained in its three previous demonstrator projects for inland rivers in the USA and Canada.
The next phase for the platform will see turbines fitted and tested in Scottish waters.
"Congratulations to the team for completing an exciting and significant project for the tidal energy Industry. We are excited to be continuing our long-standing relationship with Instream Energy and the consortium partners, and we look forward to the next phase of the project." Gino Bawn, project manager.
"This project has supported the scaling up of our technology. The Instream technology, which has been proven in river and canal environments, has global appeal with the potential to tap into previously inaccessible shallow water tidal resources." Joe Hussey, engineering manager, Instream Energy Systems.