Investor urges EnscoRowan to declare $2.5B special dividend
Offshore driller EnscoRowan has been urged by Luminus, a fund owning 4.5% of its shares, to declare a special dividend of $2.5 billion, which, the fund believes, would help the ESV share price which has been on a downward spiral for some time now and is at "1993 lows."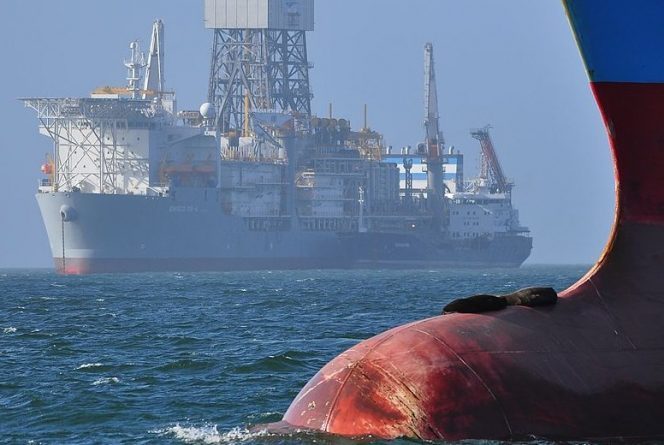 In a letter sent to EnscoRowan this week, Luminus said it "has been extremely disappointed by the absolute and relative trading performance of EnscoRowan both before, and since, the consummation of the Ensco-Rowan merger. We cannot imagine that other long-term shareholders feel differently."
Luminus has said that EnscoRowan has meaningfully underperformed the market since the approval of the Ensco-Rowan merger back in February, and is "trading at its lows since 1993." The two companies completed the merger in April, creating the largest offshore drilling firm by fleet size.
"From February 20, 2019, through June 7, 2019, EnscoRowan's stock price declined by approximately 56%, underperforming peers and the broader oilfield services market by approximately 26% and 32%, respectively," Luminus said, adding that investor seem to "refuse to give EnscoRowan credit for many of its positive attributes and factors" among which are high-quality offshore rigs, tightening jack-up market, ARO Joint venture, $165 per year projected merger synergies, and emerging tangible floater recovery.
'Investors fail to understand ESV value'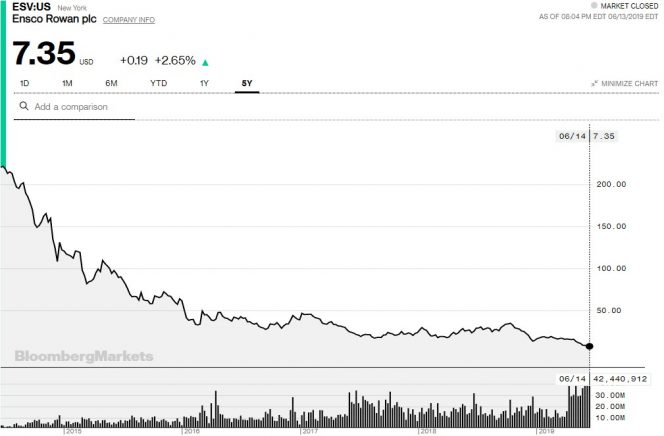 Luminus said: "Simply put, in our view the investment community has failed to understand EnscoRowan's true value, and sees no path for the market to reassess the stock's valuation."
Thus, Luminus has proposed that EnscoRowan launch a priority guaranteed bond offering to immediately fund a special dividend of $2.5 billion to shareholders.
A key component of the merger rationale was to create value for shareholders through both synergies and balance sheet flexibility, Luminus said, adding that the current market's disregard of the future prospects of EnscoRowan has created an enormous opportunity to reward shareholders with the synergies and extensive balance sheet flexibility gained through the merger.
"Luminus believes that a dividend in excess of the current $1.6 billion market capitalization will demonstrate that the Board and Management are willing to share a portion of the Company's financial flexibility to deliver value for shareholders," the fund said.
---
Related: Ensco, Rowan complete merger creating largest offshore drilling firm
---
"This commitment should precipitate an immediate re-rating of EnscoRowan's stock. We estimate that, after paying this special dividend, the Company will retain its significant financial flexibility to harvest the benefits of the emerging market recovery and Management's post-merger value-creation strategy," it added.
"Approving this transaction would reward long-term shareholders who have supported and financed EnscoRowan through the downturn.
Based on the substantial value-creation alone, Luminus is confident that shareholders will support this idea, and we encourage the Board to initiate plans to raise Priority Guaranteed debt and fund a special dividend," Luminus said.
EnscoRowan to evaluate proposal
In a separate statement on Thursday, EnscoRowan confirmed it had received the Luminus proposal..
It said: "The Ensco Rowan plc board of directors received a proposal from Luminus Management, LLC  dated June 12, 2019. EnscoRowan's board of directors welcomes investor perspectives on matters such as the Company's capital structure and the return of capital to shareholders, and will evaluate the Proposal. "
"The Company proactively evaluates and manages its capital structure to execute its strategic priorities and deliver value for shareholders. To achieve these objectives, the Company has significant financial flexibility within its capital structure, including the ability to issue debt that would be structurally senior to the Company's currently outstanding debt on both an unsecured and secured basis," EnscoRowan said.
Offshore Energy Today Staff
---
Spotted a typo? Have something more to add to the story? Maybe a nice photo? Contact our editorial team via email.
Offshore Energy Today, established in 2010, is read by over 10,000 industry professionals daily. We had nearly 9 million page views in 2018, with 2.4 million new users. This makes us one of the world's most attractive online platforms in the space of offshore oil and gas and allows our partners to get maximum exposure for their online campaigns. 
If you're interested in showcasing your company, product or technology on Offshore Energy Today contact our marketing manager Mirza Duran for advertising options.