IOG sees increase in Goddard, Abbeydale resources. More prospects revealed
UK North Sea-focused Independent Oil and Gas (IOG) has seen an increase in resources held by the Goddard and Abbeydale discoveries following an interpretation of seismic data.
The Goddard discovery is in license P2438 while the Abbeydale Area is located in license P2442. Both are in the UK Southern North Sea and are jointly held by IOG as the operator with CalEnergy as the partner in a 50-50 joint venture.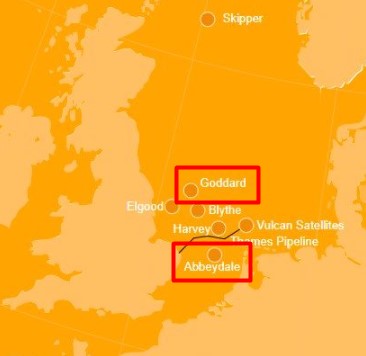 IOG said in a technical update on Monday that interpretation and mapping of 1,200 square kilometres of 3D seismic data, newly reprocessed to pre-stack depth migration (PSDM) level, has significantly improved subsurface understanding of these licences, enabling management resource estimates to be updated.
According to the company, this enhances the potential to create two new incremental high-return gas hubs, a northern hub in P2438 and a southern hub in P2442 – both in line with IOG's strategy and within the scope of the Thames Pipeline export route.
IOG said that the P2438 licence potential was enhanced by higher resources at the Goddard discovery and the identification of the nearby Southsea prospect. Namely, Goddard's gross 2C contingent resources increased from 108 billion cubic feet (bcf) in the 2018 competent persons report to a new estimate of 132 bcf.
The two Goddard flanks – Flank 1 and Flank 2 – gross mid-case prospective resources revised to 27 bcf and 16 bcf, with a geological chance of success up to 71 per cent from 48 per cent in the report from 2018.
The seismic reinterpretation also identified an additional prospect southeast of Goddard, which IOG named Southsea. Mapping of this structure indicates gross prospective resources of low/mid/high 13/31/76 bcf, with a 48 per cent chance of success.
Further technical work will be required to confirm these initial estimates and an exploration well would be required to prove gas in the structure.
The next technical priorities for the licence are to update the static and dynamic reservoir models with the interpretations of the reprocessed seismic which may further revise the resource range, ensuring that a field development plan is based on the most accurate technical understanding.
"Given the ongoing technical work, the company is also discussing the optimal timing and objective of the commitment well on the licence with the Oil and Gas Authority", IOG stated.
License P2442 also could be developed as a multi-field gas hub, given the identification of the Thornbridge and Kelham prospects and higher Abbeydale resources. Following the seismic interpretation, Abbeydale discovery gross 2C contingent resource estimates increased from 6 bcf to 23 bcf, nearly quadrupling the 2C estimate.
In addition to Abbeydale, several further prospects and leads have been identified across the P2442 licence. A prospect named Thornbridge has gross mid-case prospective resources of 66 bcf with a 32 per cent chance of success.
To the immediate north of Abbeydale lies the Camelot Complex, comprising several fields developed and produced by Mobil and later Perenco. One of these is the Cador field now renamed by IOG to Kelham.
The new seismic work combined with available production data indicates Kelham mid-case prospective resources at around 31 bcf with a solid 80 per cent chance of success. All three prospects on the license require further detailed mapping, amplitude analysis, and static and dynamic reservoir modelling.
It is worth noting that, under the licence terms, IOG is required to choose whether to drill a well within the following two years or surrender the licence. The decision must be made by 30 September 2021.
Andrew Hockey, CEO of IOG, said: "It is very pleasing that our extensive seismic reprocessing work over the past year has identified additional resources and opportunities on both P2438 and P2442. The new data shows enhanced potential for both licences to host production hubs with step-out exploration and appraisal upside. This fits squarely within our infrastructure-led strategy with our co-owned and operated Thames Pipeline providing direct access to the market for all our gas hubs.
"At IOG we always seek to plan our developments based on the best subsurface understanding of our assets. Applying this technical rigour to our portfolio helps us to allocate capital appropriately, select the right development concepts, optimise drilling designs, and ultimately generate best shareholder value.
"I look forward to providing further technical updates on the rest of the portfolio while we continue on the path to Phase 1 first gas in the third quarter".