Israel launches second offshore bid round
Israel has launched its second bid round to grant exploration licenses for natural gas and oil in Israel's economic waters in the Eastern Mediterranean. 
Earlier in November, Israel's Ministry of Energy announced the bid would be launched later during the month. The ministry then officially launched the bid round on Monday, November 26, 2018.
The bid round is pursuant to an earlier round which began two years ago and granted six licenses, some of which are expected to start drilling in the upcoming months.
Submissions will be accepted by June 2019 and announcement of the bid winners will take place in July 2019.
Following the launch on Monday, Israeli Energy Minister, Dr. Yuval Steinitz, said: "Today we are launching a new and improved bid round for exploration of natural gas and oil fields in Israel's economic waters. The fact that Israel has become a gas exporter to Jordan and Egypt, alongside completion of the agreement to build an Israeli-European gas pipeline, creates a more attractive environment for international energy companies."
Licensing round details 
In the new bid round, licenses for 19 blocks will be issued in five zones. Each block measures up to 400 sq km (250 sq mi) and each zone, consisting of multiple blocks, can be as large as 1600 sq km. The decision to market the blocks in zones is to allow better correlation between the exploration areas and subsurface geological structures that potentially contain oil and gas reservoirs.
The zones are located in the southern extent of Israel's economic waters, an area which has been previously licensed in part and had previous seismic research and limited exploration activity.
The basic participation guarantee amount for the first block licensed in a zone will be $2.5 million. Every additional block in the same zone will require another $0.5 million guarantee. The maximum guarantee required to receive 4 consecutive blocks (zone) will be $4 million.
In addition, before drilling, the licensee will be required to place an additional guarantee, in the sum of $5 million.
An exploration license will be granted for an initial period of three years.
To broaden the participation of as many new bidders as possible in the bid round, the Israeli Energy Ministry has decided to limit the number of licenses granted to any one party to 8 licenses.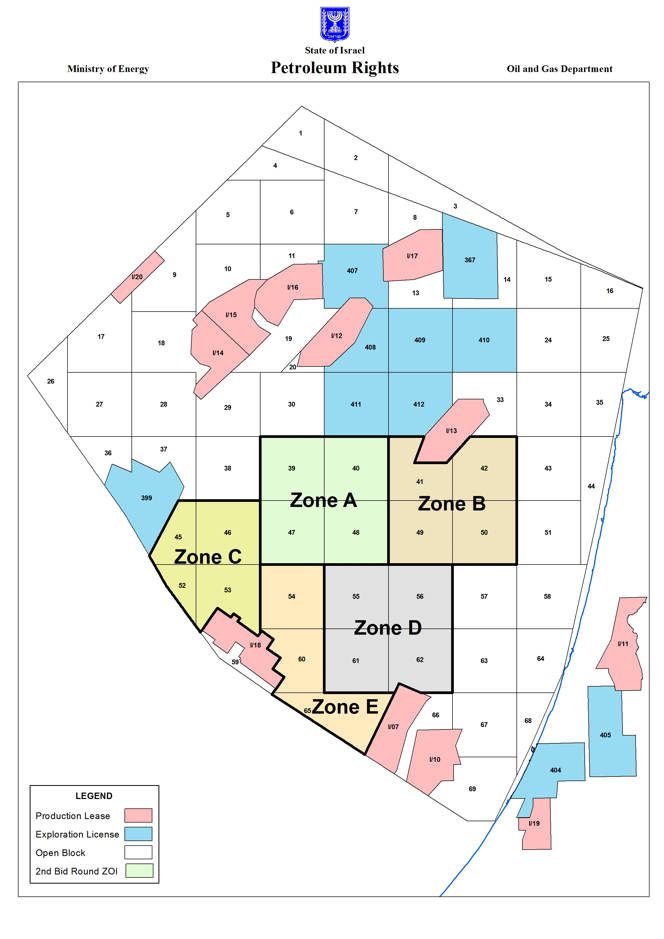 Related news
List of related news articles