Lukoil marks start of construction for Rakushechnoye field infrastructure
Lukoil, Russia's largest privately-held oil company, has begun the construction of infrastructure facilities for the Rakushechnoye field in the Caspian Sea.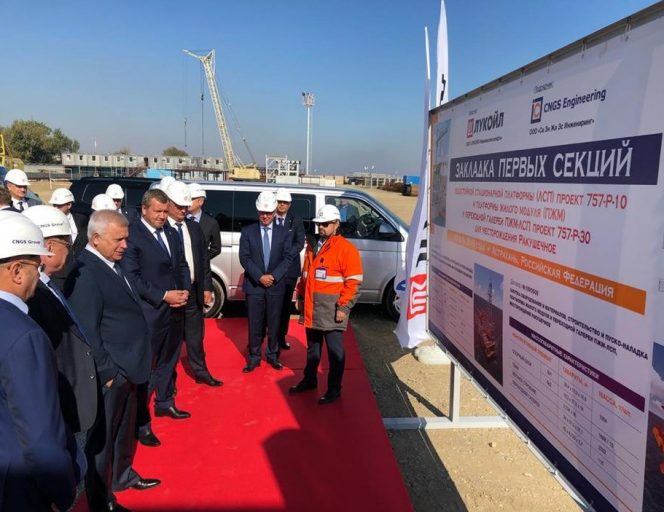 Lukoil made the final investment decision on the Rakushechnoye field development project back in July 2018.
On Tuesday, October 16 that the start of the construction was marked with a groundbreaking ceremony held during a working visit of Lukoil president Vagit Alekperov.
The ceremony was also attended by the head of the Astrakhan Region Sergey Morozov.
This is the company's third large project in the Caspian Sea alongside with the Yury Korchagin and Vladimir Filanovsky fields.
Commercial oil production, with an estimated plateau level of 1.2 million tonnes, is expected to begin in 2023. The field output will be supplied for treatment to the central processing platform at the V. Filanovsky field and then exported through the CPC pipeline.
According to Lukoil, proximity to the company's other Caspian fields makes it possible to use already available power supply facilities and infrastructure for the treatment and shipping of the products, thus contributing to an overall optimization of the project.
​The Rakushechnoye field's infrastructure includes an ice-resistant fixed offshore platform and a living-quarter platform, interconnected with a gallery bridge.
All offshore facilities for the field development will be constructed in the Astrakhan Region. The company intends to use the assembly site of OOO "LUKOIL-Nizhnevolzhskneft" as well as subcontractor's own production facilities.
Lukoil has so far discovered ten fields in the Caspian Sea. The total recoverable hydrocarbon reserves of all the fields equal seven billion barrels of oil equivalent.
The Rakushechnoye field, discovered in 2001, is located 100 kilometers off the west coast, 160 kilometers away from the port of Astrakhan, and 8.5 kilometers from Vladimir Filanovsky field.
The depth of the sea in the field area varies from five to eight meters. The initial recoverable reserves of the field are 39 million tonnes of oil and around 33 billion cubic meters of gas.