No pay at Byron's Bivouac Peak test well
Oil and gas company Byron Energy has deemed the Bivouac Peak East Prospect test well off the U.S. as non-commercial.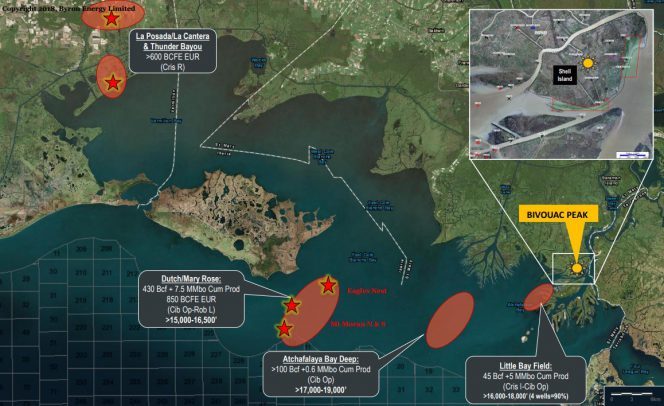 The Byron-operated Bivouac Peak lease covers approximately 2,800 acres of highly prospective acreage in the transitional zone inshore southern Louisiana.
Byron, Otto Energy, Metgasco, and NOLA Oil and Gas agreed to participate in the drilling of the Weiss-Adler No. 1 well to test the Bivouac Peak East Prospect back in early July.
One of the partners, Otto Energy, said on Thursday that the Weiss-Adler No. 1 well was drilled to a depth of 17,766 feet measured depth.
The well was evaluated utilizing quad combo wireline logging tools and deemed uncommercial. The well is currently being plugged and abandoned.
The well was designed to target a mapped gross prospective resource of 125.6 bcf and 11.3 Mmbo (32.2 million barrels of oil equivalent) within the prospect.
Objectives complete but no payoff
The operator determined that the objectives were penetrated and that the prospect was fully tested.
All four joint venture partners were notified and elected to plug and abandon the well. Wireline logs including a sonic (P&S wave), neutron/density, gamma ray and resistivity tools were run and evaluated.
Byron also generated a synthetic seismogram to confirm the tie to the seismic data to ensure the well was drilled to a depth sufficient to test the objectives.
Petrophysical evaluation of the porosity and sonic logs indicates the first objective to be a water-bearing sand and the second objective a set of thinner, tight, gas bearing sands and shales with less than five net feet of conventionally logged hydrocarbons.
Otto added that the well drilled utilizing the Parker Drilling Company Rig #77-B, managed by Stokes & Spieler, Byron's primary consulting drilling engineers.
Estimated final costs to drill, test, and abandon the well are expected to be less than $7.5 million, below original expectations of $10.8 million. Under the terms of the farm-in, Otto funds 53.33% of the first $10 million drilling costs.
As for the Bivouac Peak project area, it comprises two prospects, the Bivouac Peak East Prospect and the Deep Prospect. The total gross prospective resources for the two combined prospects at Bivouac Peak are estimated at 16.0 Mmbo and 177.7 Bcf (45.6 Mmboe).
Otto also said that the company would remain in a trading halt pending the results of the Big Tex well, the first of its eight-well drilling program with its partner Hilcorp Inc.
Related news
List of related news articles