Nord Stream 2 gas pipeline hits 1,000-kilometer mark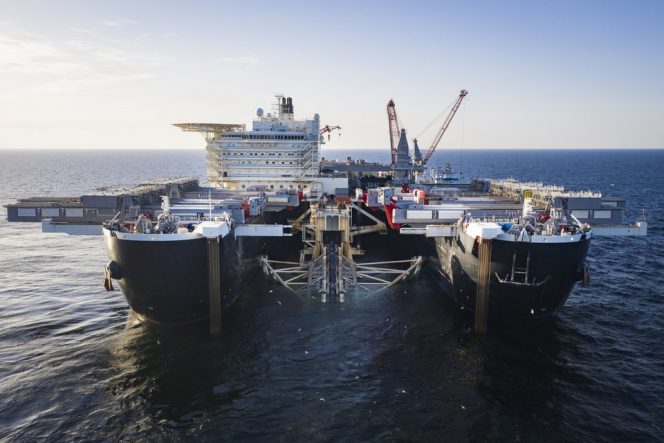 ---
A total of 1,000 kilometers of the contentious Nord Stream 2 gas pipeline has now been laid in Finnish, Swedish, and German waters.
Nord Stream 2 AG, a subsidiary of Russian giant Gazprom, said on Thursday that two Allseas-owned pipelay vessels, the Solitaire and the Pioneering Spirit, were currently installing the pipeline in the Swedish Exclusive Economic Zone.
The pipeline operator added that some twenty vessels were being engaged in the project in the Baltic Sea, with nearly 1,300 people working on board the pipelay, pipe supply, and survey vessels.
The company reached another project milestone last week when the project's coating and logistics contractor Wasco completed concrete weight coating of its share of the steel pipes in its plant in Kotka, Finland, where approximately 101,000 steel pipes had been coated. This corresponds to half of the pipes needed for the twin pipelines.
The pipeline system consists of two approximately 1,230-kilometers-long pipelines, each made up of some 100,000 pipe joints.
Nord Stream 2 was designed as two parallel 48-inch lines, roughly 1,200 kilometers long, each starting from south-west of St. Petersburg and ending at German coast, Greifswald.
Nord Stream 2's natural gas pipelines will have the capacity to transport 55 billion cubic meters (bcm) of Russian gas a year to the EU, for at least 50 years.
In related news to the project, U.S. Ambassador to the EU Gordon Sondland criticized the European Commission for not putting more effort into killing the Nord Stream 2 pipeline in the Politico journal while Reuters reported that Nord Stream 2's gas link to Germany will miss its end-2019 start-up target and may not be fully operational for several years.
According to EC's deputy director-general for energy Klaus-Dieter Borchardt, such a delay means that Gazprom will need to transit gas via Ukraine to meet its supply obligations to EU customers after 2019 and negotiate terms for gas transfer before the end of the year.