Offshore Energy and Navingo Career Event the place for new connections
Ample health & safety measures allow for thousands of visitors and participants to meet, talk and present safely for two days.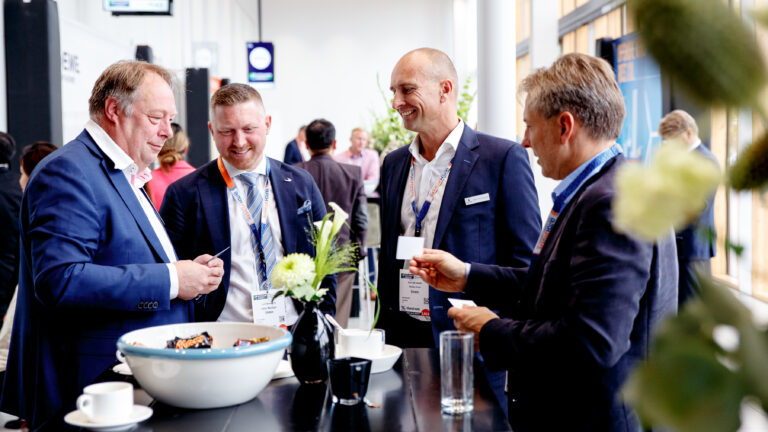 Summer 2020 is turning out to be a productive time for the Navingo team! We are busy preparing for the Offshore Energy Exhibition & Conference (OEEC) and the Navingo Career Event (NCE). These industry events will take place simultaneously on 27 & 28 October 2020 at the RAI Amsterdam, the Netherlands. Of course, the world has changed and so, we change with them. Expect two great events with plenty innovations, presentations, (safe) face-to-face contact and lots of live streaming for those who attend from home worldwide.
While the majority of other international maritime trade fairs and conferences on this year's calendar have been postponed to 2021, OEEC and NCE will be the chance for people working in the offshore energy industry to establish new business relationships and reconnect with existing industry contacts. OEEC and NCE are providing a unique opportunity to make connections.
Safe, Face-to-Face Events
Navingo is taking numerous measures to ensure that the OEEC and NCE meet the high expectations of both exhibitors and visitors. Of course, we want these events to be a success for all our members, exhibitors and visitors, but the need to ensure the health and safety of all involved takes top priority. To that end, OEEC and NCE are being organised in such a way that they will adhere to all coronavirus prevention measures that are in place at the time of the events.
The venue itself has also taken elaborate measures to ensure the continuation of large events. Note that RAI Amsterdam is one of the first European venues in Europe to reopen and host events, due to their 'Safe, Responsible and Hospitable' coronavirus protocol, that was accepted by the Dutch Ministry of Economic Affairs and Climate last month. It ensures that its 115,000 m² complex is Covid-secure and fully in line with all health and safety guidelines, incl. the associated security and crowd management.
With event experience since 1893, the RAI works closely together with Navingo to protect organisers, exhibitors, visitors, suppliers and personnel , or, in the words of the RAI on their continuously updated coronavirus information page: "Everything revolves around ensuring the health of all who come to the RAI."
Spreading the various methods of transportation ensures proper social distancing monitoring. Capacity changes have been made to all the halls, as well as clear signage at key points, dispensers and much more. If you want to take a preview of the venue and the measures taken, click here. For ongoing updates, click here.
New ways of connecting
It is a fact that this year's Offshore Energy Exhibition & Conference is going to be different from previous editions (the coronavirus is making sure of that). However, the spirit of Navingo's primary philosophy – connecting maritime and offshore companies to create sustainable solutions – remains the same. The most visible consequence is that visitors this year will experience the combination of face-to-face and virtual connections. In addition to safe, social distanced face-to-face meetings, OEEC is offering a variety of different methods of virtual contact.
One innovative way of making virtual connections is via the 'international avenues'. These will consist of physical stands (just as you expect from OEEC) manned by virtual hosts. These exhibitors will be attending the OEEC in a virtual capacity and will be available for direct and personal contact.
The Matchmaking tool is perhaps the best way to demonstrate the face-to-face/virtual combination. Available to members, the Matchmaking tool provides a platform to arrange one-to-one appointments with the person you need to talk to. These appointments can be either face-to-face or virtual – whatever is possible and whatever suits you best.
Create your own Round Table
If you need more than one-to-one contact, then the OEEC Round Table is ideal. Its flexible format means you can use it for whatever you want. For example, hold a brainstorm session between multiple project stakeholders, give a presentation to a new client or host a debriefing discussion between project participants. All these are possible via the Round Table. Round Table sessions are available to members. As the host of a session, you can invite a maximum of eight people (who can attend either physically or remotely).
Strong connections
The increased use of video links to provide virtual connections has called for greater attention to the strength of the Wi-Fi signal during both OEEC and NCE. We have made sure that Wi-Fi availability has been installed in a way that accommodates all: exhibitors, visitors, online sessions and live-streamed conferences will have reliable and continuous connection.
A platform to connect the industry
For those who want to dive deeply into the industry's (niche) markets, challenges and innovations, there is good news. Offshore Energy Exhibition & Conference is part of a new, much wider platform, that we launched in April: Offshore-Energy.biz.
It combines all the elements Navingo excels in, making the platform a connector of communities and harnessing, for example, the editorial power of Offshorewind.biz, OffshoreEnergyToday.com, LNGWorldNews.com, SubseaWorldNews.com, WorldMaritimeNews.com and MarineEnergy.biz.

Combining events, news, print, online, marketing services, information and more, the platform has a total of 440,000 monthly online users, 581,000 social followers and a whopping 118,000 newsletter subscribers – a great way to stay informed or get in touch with your clients and community.
The platform focuses on the energy transition and sustainable solutions in the maritime and offshore energy industry. On top of the exhibition visitors, Offshore Energy reaches thousands of people around the world. It even contains a job board.

To sum up, on Offshore-Energy.biz you can find:
Daily news to stay on top of the latest developments
Premium content you can easily subscribe to and that brings you in-depth articles and videos
An overview of the important players in the business landscape
Various membership options, incl. even more quality content, e.g. Offshore Energy Magazine
A job board to connect with future colleagues
Everything about relevant events to connect with clients and companies
Exclusive partnerships to reach out to them all and get their attention
Navingo Career Event
Taking place side-by-side with Offshore Energy Event & Conference for the first time in its successful 14-year history, the Navingo Career Event (NCE) is still going to be Europe's largest career event serving the maritime, offshore and energy industries.

What springs to mind this year, is that the global employment market is in a massive state of flux; a situation caused by the coronavirus pandemic. Companies throughout the maritime, offshore and energy industries are experiencing a great shift in their business plans and employment strategies. This has created a truly dynamic employment market. That, and the fact that almost all other career events simply aren't happening, the NCE's 14th edition is the 'place to be' for both employers and potential employees.
Just like the OEEC, visitors and exhibitors to the NCE will see that it is taking place with the principle of 'face-to-face & virtual'. The Matchmaking tool will be available to members, providing them with an efficient way to arrange direct and targeted appointments. These meetings can be either virtual or face-to-face. Rest assured, we will be taking all the necessary measures laid down by government guidelines to make your visit to NCE as safe and as healthy as possible.
Why participate or visit?
Whatever is different this year, one thing stays the same: doing business, meet new people, filling your vacancies or finding a job. And there are many other reasons for joining, such as the comprehensive (free) conference program with presentations, workshops and matchmaking. Both exhibitors, visitors, employers and jobseekers can experience the state of the industry and be inspired by innovations, craftsmanship and, of course the networking opportunities.
Photo: Offshore Energy