OOS International's new SSCV undocked from Chinese dry dock
OOS International's newbuild semi-submersible heavy lift crane vessel (SSCV) OOS Serooskerke was undocked from China Merchants Heavy Industry (CMHI) dry dock on September 27, 2018.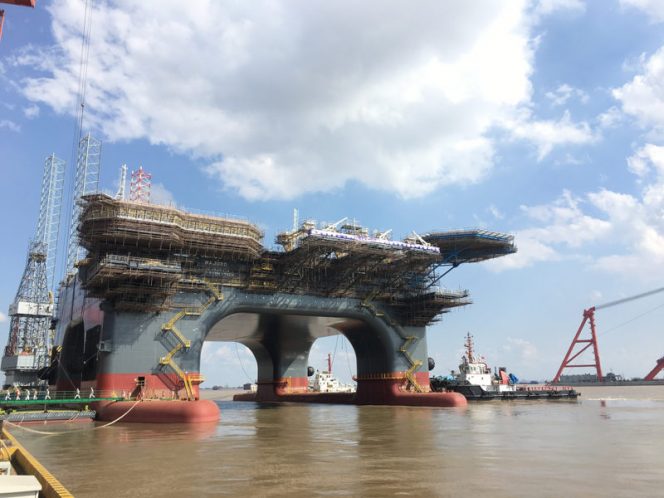 ---
OOS said that the undocking operation was complex due to the limited water depth in the dry dock.
The company added that the planning of the undocking operation started as early as January 2018 and ran through several iterations before the team arrived at the final plan.
Due to the lack of water depth within the dry dock, three barges (stacked on top of one another) were floated underneath the OOS Serooskerke, between the pontoons. The stacked barges were deballasted to provide extra support and buoyancy to the vessel by supporting the bottom of the vessel's deck box.
According to the company, this method of undocking is the first of its kind. Engineering analysis was done on the deck box to ensure the strength was enough to withstand the loading from the barge and a detailed lightship weight survey was performed and re-verified several times.
After the barge was positioned between the vessel's pontoons, the barge was carefully deballasted to make contact with the vessel. The OOS Serooskerke was finally afloat with one-meter clearance from the dock floor and finally undocked at high tide at 5:00 PM on September 27.
OOS Serooskerke
The vessel is the first of two units OOS ordered from the CMHI back in August 2016. First steel for the vessel was cut in June 2017, and a keel laying ceremony was held in December 2017. All the structural steel work on the vessel was completed in early March 2018.
Once complete in the second quarter of 2019, the vessel will be ready to enter the market and able to accomplish decommissioning and other heavy lift operations worldwide.
It will be able to accommodate 750 persons on board and it will have two heavy lift Huisman cranes with a total tandem lift capacity of 4,400 tonnes and will have the capability to reach a speed up to 12 knots. There is also an option to accommodate P&A activities with a transferable DES unit.
Offshore Energy Today Staff
Related news
List of related news articles