OPEC extends output cuts for 9 months
OPEC members have agreed to extend the voluntary oil production cuts for another nine months, with the aim to keep the oil prices "stable," with Russia also supporting the extension.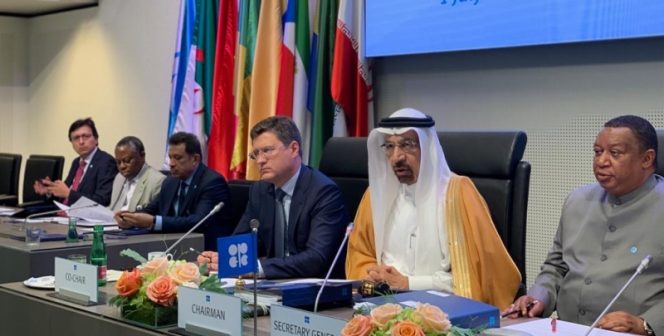 "In view of the current fundamentals and the consensus view on the outlook for the remainder of 2019, the Conference decided to extend the voluntary production adjustments agreed at the 175th Meeting of the OPEC Conference for an additional period of nine months from 01 July 2019 to 31 March 2020," OPEC said Monday following the OPEC conference in Vienna.
The extension was also supported by Russia, the 15th meeting of the Joint Ministerial Monitoring Committee of OPEC and participating not OPEC countries also held in Vienna on Monday.
According to a statement by the Russian energy ministry, the JMMC meeting participants confirmed their readiness to ensure a balanced oil market, and also supported the proposal to extend the agreement to restrict oil production for another 9 months. Russian energy minister Alexander Novak said that the extension for a longer period was not discussed.
The 6th OPEC and non-OPEC Ministerial Meeting will take place on 02 July 2019.
OPEC on Monday said it the conference had taken note of oil market developments since it last met in Vienna on 06/07 December 2018, and reviewed the oil market outlook for the remainder of 2019 and into 2020.
"It was noted that economic bearishness is now increasingly prevalent, with major challenges and mounting uncertainties related to ongoing trade negotiations, monetary policy developments, as well as geopolitical issues," OPEC said.
"It was also observed that oil demand growth for 2019 has been revised down since the last meeting of the Conference to now stand at 1.14 million barrels a day (mb/d), and non-OPEC supply in 2019 is expected to grow at a robust pace of 2.14 mb/d, year-on-year," OPEC added.
Ahead of the decision on the extended cuts, Manuel Salvador Quevedo Fernandez, Venezuela's People's Minister of Petroleum, and President of the OPEC Conference commended "the stellar efforts" of the Kingdom of Saudi Arabia who has led the way in terms of its voluntary production adjustment.
"This has been driven by HE Al-Falih, who has put his country 'front and center' of the efforts to rebalance the market and return the sustainable stability we all desire," Fernandez said.
He also said that the involuntary supply disruptions in a number of OPEC Member Countries have "in fact impacted supply developments more than the voluntary productions adjustments in the 'Declaration of Cooperation'"
"From Venezuela, we raise our voice in order to avoid using the oil market as a tool to attack the economies of sovereign nations, which directly affects the welfare and development of the people. This is undoubtedly unjust, illegal and immoral, especially if the one who exercises it does so pursuing dominance," Fernandez said hinting at the U.S. sanctions against OPEC members Venezuela and Iran.
U.S. – Iran tensions add potential for oil price volatility
Ahead of the OPEC meeting, energy intelligence firm Wood Mackenzie said that worsening tensions between US and Iran added potential for oil price volatility that could be tricky for OPEC members to manage.
Ann-Louise Hittle, vice president, Macro Oils, at Wood Mackenzie said on Sunday: "There is a downside risk for oil demand through the rest of the year if the ongoing trade war intensifies.
"Our forecast assumes no further trade war escalation. On that basis, we expect a tightening in the supply and demand balance in the second half of 2019, which supports prices. Brent is forecast to average $68 per barrel for 2019 as a whole and $69.50/b in the second half of 2019."
She added: "OPEC compliance is strong, except for Iraq and Nigeria. In May this year, Saudi Arabia had cut its production by more than 0.8 million b/d from its October 2018 reference level. This is far more than required."
"Adherence to quotas is strong from United Arab Emirates and Kuwait, as well as Algeria and Congo. But Libya, which is exempt from production restraint, saw a recovery in its output in May to around 1.1 million b/d.
"Year-on-year, OPEC crude oil production for 2019 is expected to decline by 1.8 million b/d, with more than half of that reflecting the impact of US oil sanctions on Iran and Venezuela. Venezuela's production was already in decline, but US oil sanctions are biting, with the country seeing a further 500,000 b/d fall in output since the beginning of the year."
In 2019, Iran's production is expected to fall by 1 million b/d year-on-year, as US oil sanctions cut into its oil exports, especially after waivers for consuming nations to import limited Iranian oil were ended in early May 2019. Together, Venezuela and Iran's crude oil production in 2019 is forecast to fall 1.6 million b/d.
"Non-OPEC production — and US oil supply – are strong, but these losses to OPEC supply carve into global supply growth this year, leaving it at just 0.7 million b/d," Ms Hittle said.
"The market also faces the uncertainty of the escalation of threats between the US and Iran. That would pose a supply risk in a 100 million b/d global market, with just 3.8 million b/d of spare productive capacity from OPEC. Only 1.8 million b/d of that spare capacity could be made available within a month.
"At present, OPEC has capacity to boost output by about 3.8 million b/d within nine months. Almost all of the 1.8 million b/d that could be brought to market within a month is held by Saudi Arabia, Kuwait and the United Arab Emirates. If a significant outage occurs, the ability of the global industry to meet oil demand will be at risk," she said.
Offshore Energy Today Staff
---
Spotted a typo? Have something more to add to the story? Maybe a nice photo? Contact our editorial team via email.
Also, if you're interested in showcasing your company, product or technology on Offshore Energy Today please contact us via our advertising form where you can also see our media kit.
Related news
List of related news articles