OPEC: Oil supply and demand gap could widen in 2019
The OPEC-Non-OPEC Joint Ministerial Monitoring Committee (JMMC) concluded during its eleventh meeting on November 11 that the oil supply could rise above global requirements in 2019.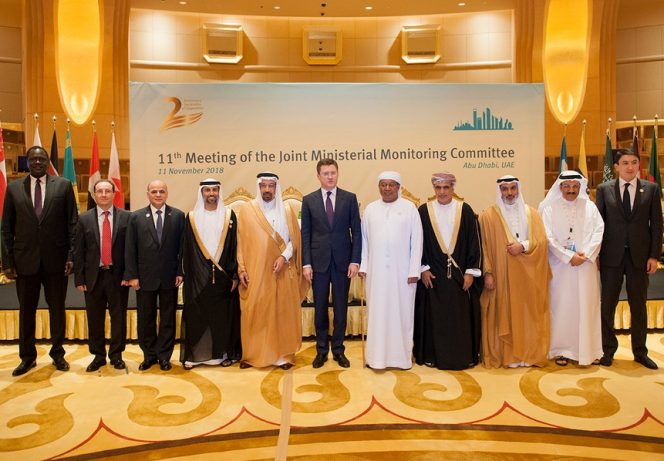 ---
OPEC said that the Committee reviewed the monthly report prepared by its Joint Technical Committee (JTC) and the short-term developments in the global oil market, including prospects, as well as scenario analysis for 2019.
The JMMC, which met in Abu Dhabi, acknowledged the achievements of participating producing countries of the Declaration of Cooperation (DoC) and their continuous efforts in pursuing a balanced and sustainably stable global oil market, serving the interests of consumers, producers, the industry, and global economy at large.
Additionally, the JMMC stated that countries participating in the DoC had achieved a conformity level of 104% in October 2018.
The Committee also reviewed current oil supply and demand fundamentals and noted that 2019 prospects point to higher supply growth than global requirements, taking into account current uncertainties.
"Dampening of global economic growth prospects, in addition to associated uncertainties, could have repercussions for global oil demand in 2019 – and could lead to widening the gap between supply and demand," the JMMC added.
In advance of the scheduled meetings in December 2018, the JMMC directed the JTC to continue closely monitoring oil market conditions and further refine the scenario analysis based on updated data, with regard to options on new 2019 production adjustments, which may require new strategies to balance the market.
The meeting took place in advance of the Abu Dhabi International Petroleum Exhibition and Conference 2018. The next meeting of the JMMC is scheduled to take place on December 5, 2018, in Vienna, Austria.
It is worth reminding that oil output increase was not discussed at the previous joint OPEC-Non-OPEC ministerial monitoring committee meeting in September, despite U.S. President Donald Trump calling for OPEC to lower oil prices.
Related news
List of related news articles