Panama Canal Administrator: Tensions between U.S. and China to Cool Off
The ongoing trade tensions between the United Sates and China are expected to subside, and a solution will be hammered out, Panama Canal Administrator Jorge Quijano told World Maritime News on the sidelines of the Posidonia 2018 trade show in Athens.
To remind, in March 2018, the United States imposed tariffs of 25 percent on imported steel and 10 percent on aluminum. What is more the exemption of U.S.'s long-term allies from the tariff, namely Europe, Canada and Mexico has expired, with the latter promising to retaliate.
Despite the recent decision to put the trade war "on hold", the continuation of talks between the U.S. and Beijing earlier this month has not been fruitful.
Cargoes passing through the Panama Canal, being in between the two countries as a major trade hub, could be heavily impacted should the trade-war escalate.
"Anyone who is in the middle of the international trade, like us, will certainly be affected if something happens in that respect," Quijano said.
For the time being, the tariffs will impact other traders but not necessarily the Panama Canal.
"Whatever happens between China and the U.S. will have a major impact on what type of cargo passes through the Panama Canal," he added.
However, judging from a personal experience, Quijano said he didn't believe the two nations would engage in a full-blown trade war.
This is in particular due to the fact that the U.S. is a major exporter of LNG now and the main buyers of LNG are located in Asia: Japan, China and South Korea being on the top of the client list.
"Most of the LNG cargoes coming from Cheniere in Texas and Louisiana are bound for Asia, China being the second top user of LNG that is going through the Panama Canal," Quijano added. "That being said, I expect that the U.S. will keep the trade situation balanced."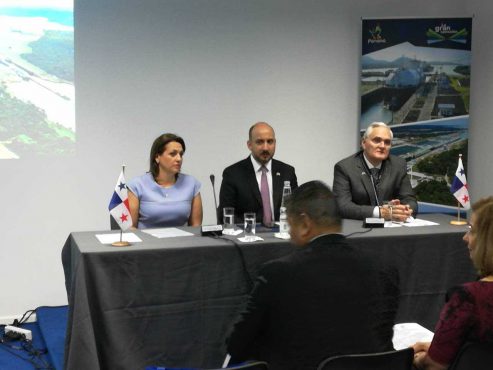 In about 20 days the canal will mark the second anniversary since the inauguration of the expanded locks. Nevertheless, the canal authority continues to make investment in infrastructural improvements.
"We continue to open up additional channels and to widen them to 300 meters from 218 meters, opening up better capacity especially going up to the ports in the Pacific as well as alleviating transits for the LNG sector."
The canal's expanded locks have been a roll when it comes to setting new records for daily transits and cargo-vessel sizes. What is more, according to Quijano, there have been no delays in booked transits through the locks.
"We have zero waiting time on the new locks," he stressed. "There are no big queues forming because we are able to use the third lane when maintenance of the old locks is conducted. Therefore we are not having a significant backlog."
Reported by Jasmina Ovcina Mandra