Polarcus helping Total define drilling prospects off South Africa
Marine seismic company Polarcus has started a 3D seismic data acquisition over Block 11B/12B in the frontier area in the Outeniqua Basin, offshore South Africa where Total has recently made a significant gas/condensate discovery.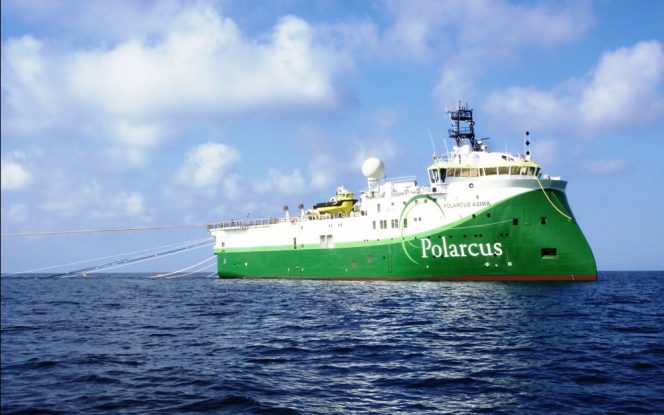 Africa Energy, Total's partner in the block, said the 3D seismic program with Polarcus would better define drilling prospects within Block 11B/12B offshore South Africa, following Total's Brulpadda discovery in February. Polarcus is using the Polarcus Asima seismic vessel for the survey.
Jan Maier, Africa Energy's VP Exploration said: "The recent success at the Brulpadda primary and secondary targets significantly de-risks other similar prospects already identified on the existing 2D seismic. With this new 3D seismic program, the reservoir zones will be better imaged for the selection of future drilling locations. The 3D seismic acquisition program will last until the end of April."
The Brulpadda discovery is located on Block 11B/12B in the Outeniqua Basin 175 kilometers off the southern coast of South Africa. The block covers an area of 19,000 square kilometers with water depths ranging from 200 to 1,800 meters.
Africa Energy holds 49% of the shares in Main Street 1549 Proprietary Limited, which has a 10% participating interest in Block 11B/12B. Total is the operator with a 45% interest in Block 11B/12B. Qatar Petroleum and Canadian Natural Resources Limited have 25% and 20% interests, respectively.
Announcing the Brulpadda discovery last month, Total said that the Brulpadda well had encountered 57 meters of net gas condensate pay in Lower Cretaceous reservoirs.
"We are very pleased to announce the Brulpadda discovery which was drilled in a challenging deepwater environment," said Kevin McLachlan, Senior Vice President Exploration at Total.
He added: "With this discovery, Total has opened a new world-class gas and oil play and is well positioned to test several follow-on prospects on the same block."
Total used the Odfjell Deepsea Stavanger semi-submersible rig for the well.
Offshore Energy Today Staff
Related news
List of related news articles