Rex to keep large stake in Block 50 off Oman. First oil expected in 2019
Singapore-listed Rex International Holding plans to bring online its offshore oil discovery in Oman next year.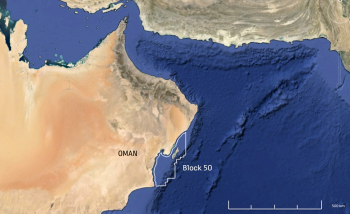 Rex has previously looked to farm-down a substantial part of its ownership in the Block 50 license containing the GA South #1 discovery to lower its holding risks, however, it on Tuesday announced the change of strategy.  The company is now considering keeping a high equity stake in the license.
Rex said: "The change of strategy comes as a result of the Group's completion of feasibility and concept studies on its discovery well, GA South#1. The feasibility study is based on reprocessed seismic data which were re-analyzed with an updated version of Rex Virtual Drilling (RVD version 4) and substantial conventional interpretation."
The company added: "Following the completion of the feasibility study which further validated the earlier studies, the Group plans to achieve production in the second half of 2019."
Dan Broström, Executive Chairman of Rex International Holding, said: "The results of the feasibility study are very encouraging and we are of the view that the GA South#1 discovery well is a very valuable asset.
Commenting on the decision to keep a high stake in the block, the Chairman said: "there are merits in maintaining a high equity stake in the block to reap potential benefits of more upside and cash flow when there is production."
Broström said:"In the meantime, we are looking at other non-dilutive financing options to help fund oil production costs."
The GA South#1 discovery was made in 2014, and is the first ever offshore discovery east of Oman. Rex holds indirectly a 92.65% stake in Masirah Oil Ltd, which holds a 100% interest in the almost 17,000 sq km Block 50 Oman concession.
Masirah Oil Ltd's final plan and execution are subject to government approval. The prospective resources (gross mean unrisked) in the entire concession were estimated to be about 4.7 billion barrels of oil by Aker Geo and Pareto Asia.