Shell gets green light for Curlew field decommissioning program
Anglo-Dutch oil major Shell has received an approval from the UK authorities for its decommissioning plan of the Curlew field facilities in the UK North Sea.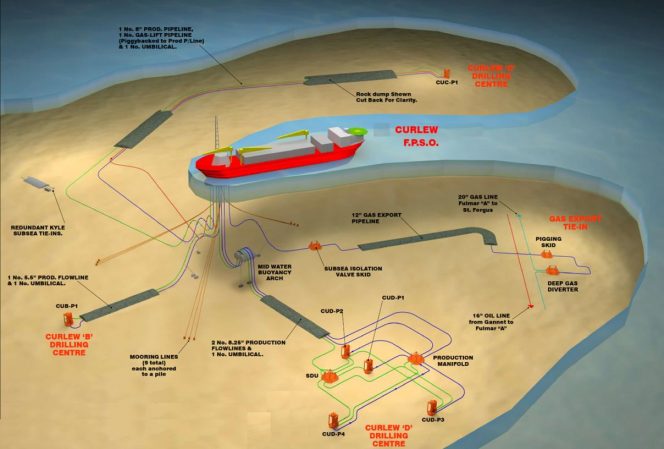 ---
The Curlew oil and gas offshore facility is situated in the Central North Sea on the UK continental shelf. It is located approximately 210km east of the Aberdeenshire coastline, Scotland, and 55km west of the UK/Norway median line, in a water depth of 93m. The facility consists of a central processing floating production, storage and offloading vessel, with three subsea field tie-backs, and is connected into the Fulmar pipeline for gas export to St. Fergus onshore facility.
Shell decided to remove the Curlew FPSO and decommission its associated subsea infrastructure and requested cessation of production on the Curlew fields including FPSO facility in January 2016. The company then in 2018 submitted its draft decommissioning program for Curlew to the Department for Business, Energy and Industrial Strategy (BEIS).
The plan contains five decommissioning programs, one for the Curlew B & D offshore installations, one for the Curlew C offshore installations, one covering the Curlew B & D pipelines and two covering the Curlew C pipelines.
According to a document on the BEIS' website, Shell received the approval for Curlew DP at the beginning of March.
Decommissioning activities will be done in phases. Phase 1 includes the Curlew FPSO removal, which means flushing of pipelines and facilities, disconnection of all lines from subsea trees, disconnection of the risers and mooring lines at the FPSO allowing sail-away at the earliest convenience.
Later phases of the program include plug & abandonment of wells, and removal of subsea infrastructure.
The Curlew FPSO was originally built at the Odense Steel Shipyard in Denmark as the tanker Maersk Dorset in 1983. In 1997, The tanker was converted at A&P Tyne on the River Tyne, while the fabrication, construction and installation of the topsides was carried out by AMEC. It was deployed in the Curlew Field in 1997, where it produced first oil that arose from the phased development of the subsea Curlew B-D fields.
There are three subsea tie-backs to the Curlew FPSO. The first one is the Curlew B field produced from a single well; then the Curlew C field. which produces from a single well (re-uses the original Kyle dynamic riser) with gas lift and associated subsea structures; and, Curlew D field which produces via two production lines from four wells tied back to a production manifold together and associated subsea structures.
All installations and pipeline structures will be fully removed during decommissioning. The Curlew FPSO will be towed from the field to the selected cleaning/decommissioning location.
Related news
List of related news articles