Telford Offshore adds seven vessels to its fleet
International offshore service company Telford Offshore has concluded a recent acquisition, which has resulted in almost tripling of the number of its offshore vessels.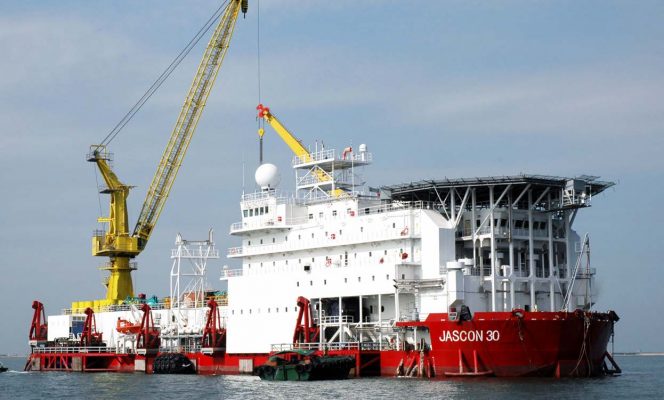 The Dubai-headquartered business has acquired an additional DP3 pipelay and accommodation vessel and six offshore support vessels following a legal settlement between Sea Trucks Group (STGL in liquidation) and West African Ventures (WAV).
To remind, Telford was officially launched in February 2018 after acquiring four DP3 multi-purpose offshore construction vessels from Sea Trucks, the Jascon 25, Jascon 28, Jascon 31, and Jascon 34.
Telford's latest transaction, which was announced last week, has brought Telford DP3 fleet numbers to five.
According to Telford, the 2007-built DP3 vessel Jascon 30 is set to be dry docked in the coming months and upgraded in preparation for utilization across the globe under its new name, Telford 30. The vessel will be ready for deployment later in 2019.
Meanwhile, the six offshore support vessels, which are all anchor handlers, will be deployed in Nigeria with Telford's partner Afrimarine Charters. They will be prepared to start work on projects during the first quarter of 2019 as Telford moves to increase its presence and commitments in Nigeria and West Africa.
Fraser Moore, Telford Offshore Chief Executive Officer, said: "Adding to our fleet with these seven assets allows Telford to further enhance our presence in West Africa and elsewhere. The Telford 30 in particular will offer a unique combination of DP pipelay, moored pipelay, heavy lift and accommodation support from one asset."
Ivan Coyard, Telford Offshore Chief Financial Officer, added: "We are pleased to see the settlement enacted after two years of litigation, allowing Telford Offshore to manage and operate a larger asset base and to further build and develop the group. We will have a larger asset base, stronger balance sheet with no additional debt."
Related news
List of related news articles