Transocean lands higher day rate for drillship and more work for idle rig
Offshore drilling contractor Transocean has secured more work at a higher day rate for a drillship in the Gulf of Mexico and a new contract for a semi-submersible in Myanmar after recently getting a termination for the same semi-sub from Petronas.
Transocean published its 4Q 2020 and full-year report on Monday, revealing its financial performance for these periods.
According to the report, Transocean sank to a net loss in the last quarter of 2020 compared to the prior quarter of the year as its revenues decreased but managed to reduce its losses in the year-over-year comparison.
In its earnings conference call, Transocean CEO, Jeremy Thigpen, said that, just last week, BHP exercised one of its options on the 2014-built Deepwater Invictus drillship at an increased day rate of $215,000.
The rig owner's latest fleet status report, published earlier in February, shows that the rig's previous day rate under the contract with BHP was $155,000 for operations in Trinidad where BHP failed to find oil.
The current option starts in April 2021 and ends in April 2022. BHP also has one additional one-year option for the rig.
Under the one-year option, the rig will be working for BHP in the U.S. Gulf of Mexico and is expected to continue working through this summer.
Transocean semi-sub returning from idle mode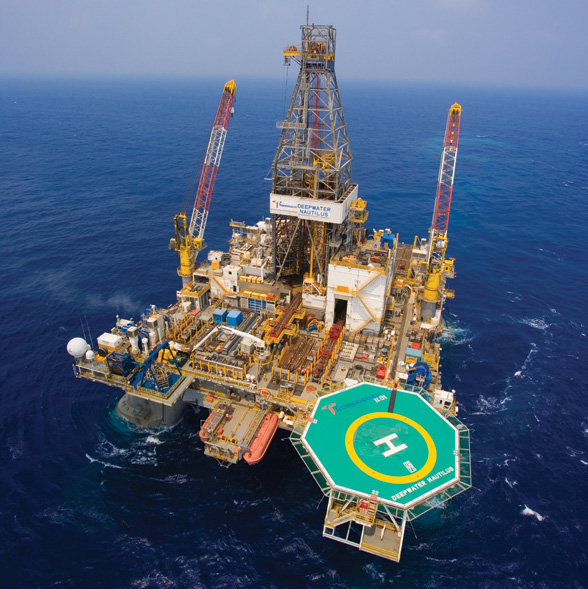 During the last quarter of 2020, the Deepwater Nautilus was under contract with Petronas in Malaysia for a turn that was expected to expire at the end of February 2021.
However, as previously reported, Petronas attempted to terminate the remaining term early in November 2020.
"We strongly believe that this attempted early termination is invalid, and we are urgently pursuing all applicable remedies", Thigpen said during the call.
As a result of the contract termination, the rig has been idle since December 2020. However, it will not stay idle for long following a new contract award.
Thigpen said that Transocean signed a new fixture for the Deepwater Nautilus with POSCO. The rig will begin working at the end of March and continue into the summer.
Bassoe Offshore estimates that the day rate under this contract in Myanmar will be $180,000. The contract starts in March and ends in June 2021.
For comparison, Deepwater Nautilus' day rate under the now- terminated Petronas contract was $140,000.
Finally, Thigpen said that the 2014-built Deepwater Asgard drillship recently completed a campaign for Beacon Offshore in the Gulf of Mexico in January 2021.
The rig is now warm-stacked but Thigpen believes that, as one of the most technically advanced assets in the U.S. Gulf of Mexico, the rig should see no shortage of work as the company is "actively bidding her into multiple opportunities".