U.S. South China Sea bill targets Chinese oil, drilling, dredging companies
Chinese oil, shipping, telecom, dredging, and offshore drilling companies are facing a threat of U.S. sanctions if a South China Sea bill introduced last Thursday by several U.S. senators is enacted.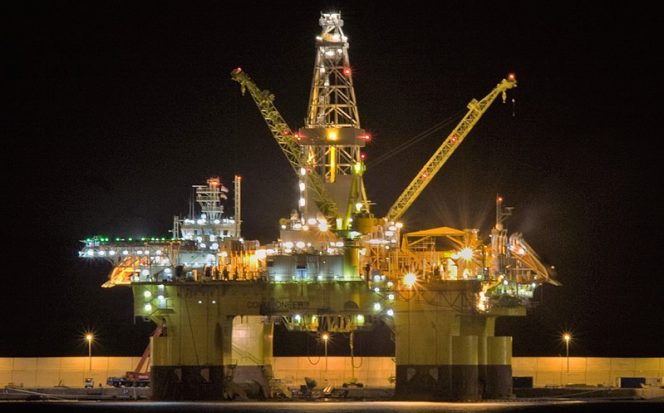 U.S. Senators Marco Rubio (R-FL) and Ben Cardin (D-MD) last Thursday introduced the bill to impose sanctions against Chinese individuals and entities that participate in "Beijing's illegitimate activities to aggressively assert its expansive maritime and territorial claims in these disputed regions."
The bill aims to impose sanctions with respect to China's "activities in the South China Sea and the East China Sea," on any Chinese person or entity that "contributes to construction or development projects, including land reclamation, island-making, lighthouse construction, building of base stations for mobile communications services, building of electricity and fuel supply facilities, or civil infrastructure projects, in areas of the South China Sea contested by one or more members of the Association of Southeast Asian Nations."
While the terms of the bill do not specifically mention oil and gas exploration and production activity, the bill, if passed, will make it an obligation of the U.S. Secretary of State to make periodic reports to a congressional committee on whether Chinese companies among which the bill lists oil companies CNOOC, Sinopec, offshore drilling company COSL, and shipping firm COSCO, have been involved in the activities described by the bill.
In total, the bill has listed 25 companies as those the State Secretary should specifically monitor, among which are dredging companies, telecom companies, oil companies, shipping companies, and aerospace, and defense companies.
"China has been bully in both the South and East China Seas, encroaching on and intimidating its neighbors. Such aggressive behavior cannot go on unchecked."
The Bill also says the U.S. should urge China not to "continue to pursue illegitimate claims and to militarize an area that is essential to global security."
To remind, China National Offshore Oil Corporation (CNOOC) five years ago moved an offshore drilling rig to an area of the South China Sea claimed by Vietnam. The move sparked deadly riots in Vietnam, with 21 reported dead. Some Chinese factories were set on fire, and Chinese nationals had to flee Vietnam at the time.
The U.S. bill introduced last Thursday envisions sanctions in the form of blocking of property in the U.S., exclusion from the U.S., visa revocation for any Chinese entity violating the bill's terms. It has also envisioned penalties for countries acting as if China's claims over the South China Sea are valid.
"This bipartisan bill seeks to reinforce America's strong and enduring commitment to securing a free and open Indo-Pacific, including in the South China Sea and East China Sea," Rubio said.
"Because the Chinese Government's ongoing and flagrant violations of international norms in the South China and East China Seas cannot go unchecked, this legislation authorizes new sanctions to put Beijing on notice that the United States means business and intends to hold violators accountable."
Cardin said: "China has been bully in both the South and East China Seas, encroaching on and intimidating its neighbors. Such aggressive behavior cannot go on unchecked. "The United States will defend the free-flow of commerce and freedom of navigation, as well as promote the peaceful diplomatic resolution of disputes consistent with international law. I am pleased to join Senator Rubio and our colleagues to send a strong bipartisan message in defense of our national interests and those of our allies and partners in the Asia-Pacific region. Our legislation underscores America's continued commitment to promote freedom and uphold the rule of law in East Asia."
China foreign ministry: Further disturbance of US-China relations
Asked to comment on the proposed bill on Thursday, – prior to the official bill introduction – a China foreign ministry spokesperson said: "Regarding the so-called proposal by some in the US, China's position on the South China Sea and the East China Sea is consistent and clear. Construction on Chinese territory in the South China Sea is a matter completely within our sovereignty. The act […] runs counter to international law and basic norms governing international relations. China firmly opposes it. We urge the US not to move forward the review process to prevent further disturbance to bilateral relations."
Offshore Energy Today has reached out to the oil firm CNOOC and the offshore drilling contractor COSL seeking comment on the U.S. bill and the potential repercussions on their respective businesses. The two companies did not respond.
In a statement introducing the U.S. bill targeting China's South China Sea activities, the senators said "this legislation is timely given ongoing efforts by the United States to conduct freedom of navigation operations (FONOPs) in support of a free and open Indo-Pacific region."
Worth noting, the US guided-missile destroyer USS Preble (DDG-88) last week entered the South China Sea waters claimed by nearby what China claims to be its territorial islands and reefs.
China has described the move as a provocation which "endangered the safety of ships, aircraft, and personnel of both sides, undermined China's sovereignty and security, violated the basic norms governing international relations and sabotaged regional peace and stability."
"China has indisputable sovereignty over the South China Sea islands and their adjacent waters, and we are firmly opposed to the provocative behavior of the US warship", China's Senior Colonel Li Huamin was reported as saying last week.
Offshore Energy Today Staff
---
Spotted a typo? Have something more to add to the story? Maybe a nice photo? Contact our editorial team via email.
Offshore Energy Today, established in 2010, is read by over 10,000 industry professionals daily. We had nearly 9 million page views in 2018, with 2.4 million new users. This makes us one of the world's most attractive online platforms in the space of offshore oil and gas and allows our partners to get maximum exposure for their online campaigns. 
If you're interested in showcasing your company, product or technology on Offshore Energy Today contact our marketing manager Mirza Duran for advertising options.